So, I've been seeing a lot of lists of the top 10 Horror Movies of all time. They usually don't included any newer movies. So, here are my favs from the past couple of years. They aren't in any order. Sadly enough, there aren't that many of them.
Old school haunted house movie. Nuff said.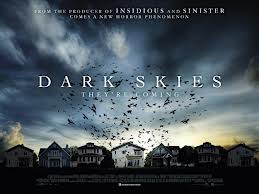 Alien abduction movie with the feel of an atmospheric horror story. Who knew that could be a thing?!
Part ghost story, part snuff film- all disturbing. Still trying to work myself into watching this one again. That scene with the lawnmower still haunts me. I thought I could watch that scene again. I didn't make it. I covered my eyes at the end. Don't watch the video if you don't want to jump 😉
Daniel Radcliffe and a haunted house story. Come one. Need I say more.
The red face monster nearly killed it for me. I am loving The Further though.
Indie horror films are usually a fail. This one wasn't. The whole haunted asylum has been done to death. Grave Encounters worked.
…
Can't think of anything else. If you have anything to add, let me know.
If you really want to push the envelope this Halloween, sit down and watch all these just one right after the other. I don't think I could do that.