C*U*R*R*E*N*T*L*Y Fall 2016 Blog Hop- Autumn Inspirations and Obsessions
Slowly, the world shifts. Green transforms into bright red, orange and yellow. The burning heat gives way to a cool breeze. The sun sets earlier. The magic of twilight is finally in your hands. The new season revives hope. Change is here.
My writerly pals and I are sharing autumn moments in the C*U*R*R*E*N*T*L*Y – Fall Blog Hop. Please have a read and enjoy. Then visit the other #Gr8Blogs listed at the end of this post for more Fall 2016 C*U*R*R*E*N*T*L*Y inspiration.
I started a book a couple of days ago but I'm thinking of giving up on it. The story does a lot of head hopping. We'd get a couple of paragraphs with one character, then the story moves to another POV with no warning.
I'm trying to stick with the book because the writing isn't terrible and the premise is interesting. I get confused and thrown off balance every time the author switches perspectives. Reading it feels like trying to walk straight across a floor made of jello. We'll see if I finish this one.
Anyway, I'm thinking about buying a manga. I really, really want to. I started the anime No.6 but the ending was so unsatisfying. Then I learned the manga wasn't finished and I thought, "YES! I can wash out the bad taste that ending left." I really want this manga. Several volumes are available on Amazon. But it's one of those things I know I shouldn't buy because funds are tight. The torture!!!
I already spent my book budget for… awhile. Last month, I attended a We Need Diverse Books panel at Barnes and Noble. Since I arrived early, I made the mistake of wondering around the store. I came across The Gate of Sorrows.
Ever have one of those moments where you pick up a book and can't bring yourself to leave the store without it? This was one of those times. So…yeah I spent $30 on a book when I really shouldn't have.
By the end of the day, my brain is so fried I only want to watch something fun. There are shows on Netflix and Hulu, like Agents of S.H.I.E.L.D, that I enjoy but they're so serious. Most days, I don't want serious. I usually binge want Screen Junkies or CinemaSins on YouTube. I never get tired of watching them. I'll sometimes watch Markiplier play horror video games.
I'm currently obsessed with two animes. Yuri!!! On Ice and Bungo Strays Dogs.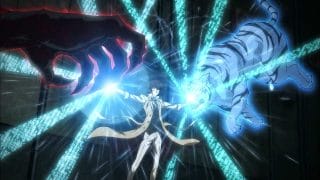 Currently Anticipating
It's NaNoWriMo- National Novel Writing Month. I don't usually participate but it just so happened I have a novel I'm working on, Book 4 of The Merging Worlds series. I'm not writing as often as I would like to. Other things get put up front while writing gets the, "if I have time" treatment. I'm participating in NaNoWriMo because I need a swift kick in the butt. Writing cannot take a backseat to other things. It's the foundation. My username is audendj31. Let's connect.


Currently Thinking About
Most recent graduates find themselves in this situation. They've gotten their degree. They start applying for jobs and nothing happens. They end up taking jobs they're overqualified for because they need money. Bills don't stop coming in. Student loan payments are no joke.
I got my second masters in June and have been applying for jobs since then. Nothing's happening. I'm doing a lot of work- applying for jobs, trying to get my business off the ground, writing and marketing my brand- but none of it is bringing in enough money to pay bills.
Now, I'm trying to figure out if there's something I need to stop doing and focus my attention elsewhere. Honestly, I've often thought of just giving up on writing, designing, photography…
Currently Making Me Happy
On to a less depressing topic. Last month, I designed a couple of fantasy/paranormal images. Now, I'm turning them into premade book covers which I will, hopefully, sell. I love designing. These are my WIP.
I also love taking pictures of books and journals among the fall colors.
Currently in My Camera Lens
I'm gonna be sad when all the colorful leaves are gone. I'm haveing a blast taking pictures of them.
Thanks for stopping by! For more Currently – Fall 2016 moments, visit the #Gr8blogs below.
Cat Michaels, Cat's Corner

Sondra Robbins Rymer, Fairy Tales Imagery
CURRENTLY FALL 2016 BLOG HOP: FINDING MY BLISS