Because I'm weird and obsessed with horror and darkness, I visited Green-wood Cemetery over the week. Yes, it was cold but I wanted to go there to get some horror-y shots. I wore my layers.
When photographing, I try not to come at a scene straight on, at eye level, because that's how everyone sees the world. Since I can't often get higher, I get lower. I saw a cool looking crypt and kneeled to get the shot. My jeans didn't like that. As soon as I got down, I felt a pull than a give. My jeans ripped. Fortunately, because of my layers, I was fine.
Photographing these things can be kinda terrifying. My imagination goes crazy. I saw a person in a green hoody standing on a hill. Their back was toward me so I couldn't see their face. For some reason, that freaked me out. I kept looking back hoping they don't just vanish. Green-wood Cemetery is supposed to be haunted.
1
2
3
I kneeled for this shot because it has a nice line.
As you can see, the photos are of the same scene just lighter or darker. I bracket all my photos. There's a setting on your camera that lets you take a shot at three different exposures. I take the three photos then examine them when I get home.
Which should I keep? I check the histogram for that. The graph on the camera and in Lightroom will tell you the photo's exposure.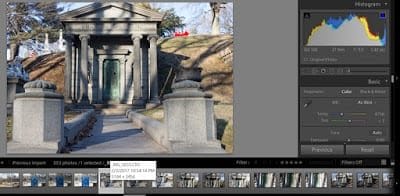 You can see the histogram in the upper right corner. Not a bad curve though the red in the photo shows it's overexposed in some places. This is photo #1.
Here's #2:
There's nothing that's over or underexposed in this shot but you can tell by looking at it and the histogram that it's too dark.
I only need to look at the third photo to tell it's too bright. That one gets deleted.
The first photo is the one.
I did some adjustments in Lightroom to fix the exposure.
Now for the second problem. Becuase of that white statue and those grave markers in the distance, I feel, the photo is too heavy on the left side. I took shots of the crypt from different angles. I could either give up on this angle or see if I can fix it.
Let's try to fix it first. Time for some cropping.
That's better.
Now, the pot on the right balances the grave markers on the left. I did some more tweaking: increased the vibrancy, changed the light and shadows… Here are the final results:
I'm going back and forth between giving it a 3.5 or a 4 rating. It's not a terrible shot but I'm not blown away by it. I think I like the black and white version better. What do you think?
Here are the other angles.
You know I had to have some Photoshop fun with this photo.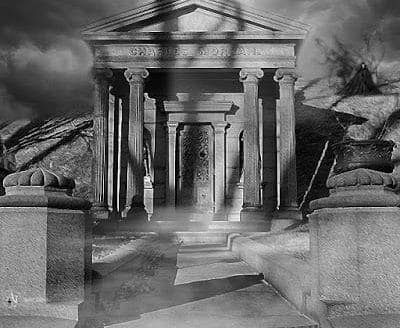 Looks like something out of an old horror movie.
Follow me on Instagram to see more photos!