I walked a lot of miles over the weekend My legs and hips were hurting. I had to sleep on a hot water bottle because my back was so messed up. On top of that, to keep up "the look", I was wearing shoes not meant for long walks. I tried to put some gel insoles in them but that just made things worse.
Despite that, I had an amazing weekend. It was like a mini-vacation but I didn't leave NY. My brother and I went to Comic-Con! It's that one time of the year where you can be as nerdy as you want. You go out of your way to be nerdy.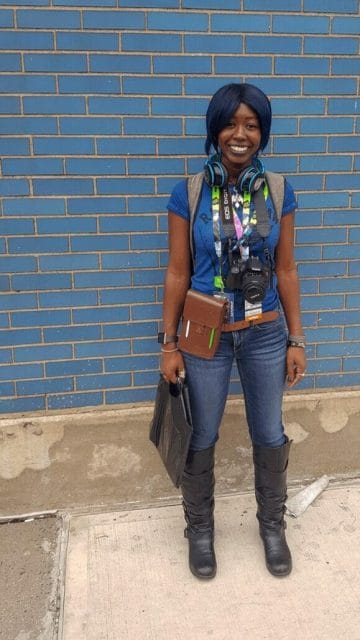 I wanted to do some kind of cosplay, dress as someone from Fairy Tail, but I couldn't think of a cheap way to do it. I tried searching for a Fairy Tail shirt or bag. I couldn't find one that would arrive in time for the Con. Instead, I dressed as a generic anime character, hence the shoes. To add a hit more nerdiness, I strapped on my Zelda 3DS case and wore my headphones like they were jewelry.
I got excited walking to the Con and seeing all the people with the bright green lanyards and the cosplay. This sign, walking into the Con, made my day.
Comic-Con in a nutshell.
The crowd…the crowd.
You got used to pushing past people and getting pushed by people. That really was the only way to navigate the show floor. I couldn't see the booths well either. One of the curses of being short. Fortunately, my brother is over 6 feet so he saw very well.
We didn't sit on as many panels as I planned. Not surprising. In order to get into a panel, which is usually an hour long, you need to line up an hour beforehand. That's two hours out of your day.
One area, SyFy Wire, had 15-minute panels on the show floor so you didn't have to line up. Just stand in the crowd and try to see over people.
We walked in on one panel.
That's Karl Urban in the front row!
We really wanted to see the Dark Phoenix panel.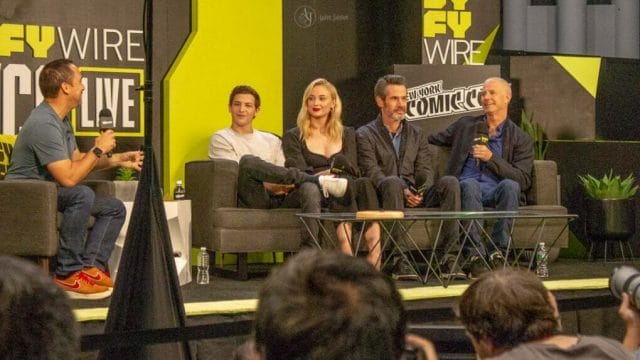 Didn't get any Comic-Con exclusive clips but the interview was interesting enough. I also enjoyed the Runaways panel. I like the comic book but I haven't gotten into the show yet.
And the cosplay.
I think he was done at this point. I didn't see him in full BumbleBee costume. Would've been cool.
This was a working R2-D2. Obviously, not as advanced as the one in Star Wars but it moved seemingly on its own and it beeped.
It seems, Comic-Con is outgrowing the Jacob Javits Center. They had a couple of events off-site. Hope this doesn't mean Comic-Con will be moving.
We got passes for AnimeExpo/AnimeFest, which was off-site. According to the NYCC map, it was only a few blocks from the Jacob Javits Center. The map was wrong. The Javits Center is around 33rd Street. AnimeExpo was at 52nd. It took us a while to figure that out. There no signs pointing us in the right direction.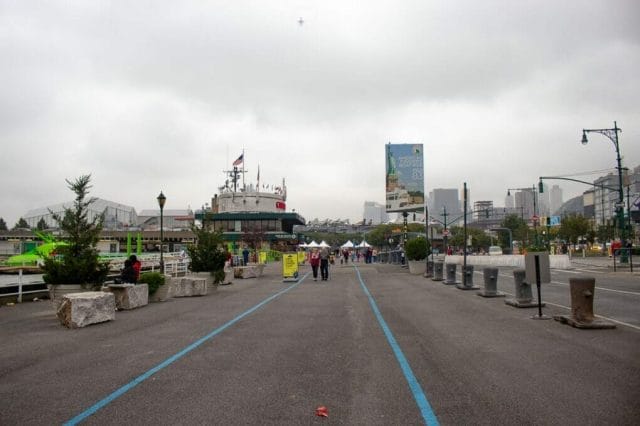 The walk wasn't that long but it was annoying because we were lost for like 30 minutes. Eventually, we found Anime Fest. What a contrast it was to the main area.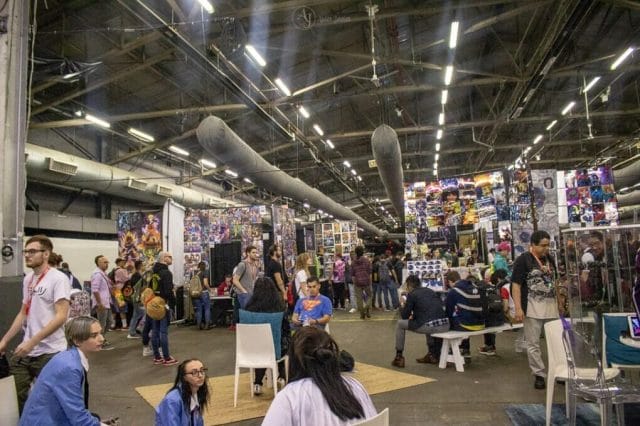 Lots of walking and sitting room. You weren't squeezing past people to get to booths. And, there were cool places to sit.
I spent most of the Con trying to find an affordable nerdy bookbag. Mostly I found Harry Potter, Superhero or Pokemon bag. I was fine with all of that but 1) most of them cost $70 and 2) I wanted an anime bag. I finally found it at Anime Fest.
I wanted a Fairy Tail bag but I'm quite happy with a Naruto one and it was super affordable. Finally, finally, I got the Elder Wand. And we got a nice little surprise on the way the home.
The nerds totally took over that area!
I'll be posting pics of my swag on Instagram over the next couple of week. Got a lot of comic books, graphic novels, cool bookmarks, and artwork.
Follow me on Instagram
To see more NYCC photos, visit my