This past week was the first time my employer/publisher, Aubey LLC, exhibited at BookExpo America. We were super excited when we arrived on Wednesday to set up our booth, especially when we saw our company name.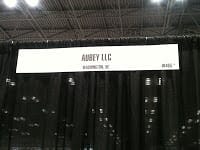 We got to see the exhibit hall before opening day. It was awesome seeing BEA behind the scenes.
The expo lasted from Thursday-Saturday. For the first two days, only exhibitors, librarians, staff and authors were there and it still had a lot of people.
This expo is massive. Traffic to our booth on the first two days was pretty good. We were giving away free copies of my mom's new books Finding Me…Again? and Found. We also gave out key chains with my blue butterfly on it. Things really picked up on Saturday when BEA opened to the public.
On Saturday, we had special giveaways. People could have free posters. One had a poem from my mom's book and the other had my book cover on it. We also gave away mugs. One had the cover of a book Aubey is publishing either late this year or early next year called U.S. Civil Service Yesterday, Today…And Tomorrow. The other mug had my blue butterfly and info about my book, The Sciell, on it.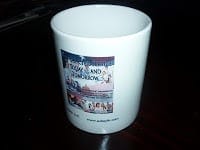 People devoured the mugs. The one for The Sciell was gone before the afternoon! They loved my cover and the blue butterfly. Since I created all the images, it was nice to know people found them eye-catching. They were also really interested in my book. I always knew I'd publish but I rarely thought about whether or not readers would like my story. It was awesome to find out so many people were interested in The Sciell. I got into a friendly debate with one person because they didn't understand how darkness couldn't be evil.
Because several of us were at the booth, we each took turns walking around the other exhibits giving us time to collect so many free stuff. It was awesome.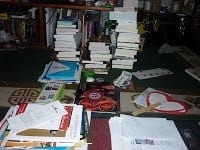 Getting home each day was an adventure. We had like two or three tote bags full of books. Speaking of which, when I'm at a conference, I usually scope out the bags. One booth was passing out these gorgeous Hobbit bags. I saw some awesome ones that I wanted but each time I went to the booth, they were all gone. There's even a method to collecting bags. The best time to do it was at the start of the day. After noon, it's so hard to find the good ones.
Then, there were the free book signings. The line for these things were crazy but so worth it. I mean, free books signed by the author- awesomeness. I'd been really looking forward to horror author Jonathan Maberry and horror anthology editor Ellen Datlow's signings. Can't wait to read their books!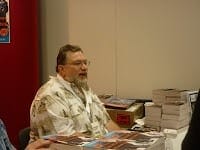 All in all, this first BEA for Aubey LLC was a success. My mom signed over 200 copies of her books, people loved my swag and were interested in my book, the business made some new contacts and we got some great information to help us expand. More importantly- we had fun.