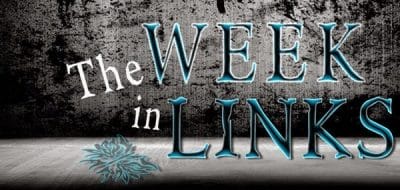 Fantasy/Sci-Fi/ Horror


International Business Times: Oscar Genre Bias: Why Sci-Fi, Foreign Films And Horror Movies Never Get Best Picture Nominations
Tor.com: Gritty Power/Rangers Fan Film is a Wonderfully Dark Reboot
Tor.com: Oh No, She Didn't: The Strong Female Character, Deconstructed
There's been a lot of talk lately in the science fiction and fantasy community about "strong" female characters, with various authors weighing in about how to write them, what they are, and why the term is flawed in the first place.
SF Signal: Special Needs in Strange Worlds: The Best Books of 2014
The reason Joe Abercrombie's first YA novel fits in on this list is because of its main character Jarvi. He is the titular half a king, dubbed thus because he has a malformed hand, which means he can't be the warrior he is supposed to be as a son of the king.
Hell Horror: FX's American Horror Story: Hotel Announced by Lady Gaga
Hell Horror: What If John Carpenter Directed Frozen Video
Bustle: Can You Actually Be Scared To Death? AsapSCIENCE's Video Sheds Some Light On The Subject
Fangoria: Arnold Schwarzenegger's zombie film "MAGGIE" gets dated
io9: The Greatest Advice For Science Fiction Writers: "Ask The Next Question"
jbg News: Pacific Rim 2 Director's New Film Finally Has A Trailer


Writing and Publishing


(An old post that I just came across this week) Claire Light: Arg. Arg. Arg
"What I want to add to the debate is a small piece of truth that gets glossed over. In response to the complaint of white writers about writing about people of color: "Damned if you do. Damned if you don't," I want to say: absolutely." … You're a white writer trying to do the right thing, but no matter what you do, it's wrong. And that's so unfair to you, isn't it? Welcome to a tiny taste of what it's like to be a person of color."
The Book Designer: Self-Publishing: Carnival of the Indies Issue #53
The Future of Ink: How To Write Fascinating Amazon Book Listings To Sell More Books
The Guardian: Why are so many adults reading YA and teen fiction?
Out:think: 3 Myths About Social Media for Authors
"Social media is not a way to grow your "fame", it's a reflection of your fame."
Social Media Examiner: Four Ways to Increase Social Shares for your Website Content
"Images and rich media are driving more results for brands than ever before, so it's important that your images are appealing and shareable on social networks."
Karen Woodward: Writing And Gaming: Tabletop RPGs, Character Creation And Conflict
The Creative Penn: Habits Of A Book Junkie In A Digital World
The Creative Penn: Getting Your Self-Published Book Into Bookstores And Libraries With Debbie Young
The Write Life: 19 Quick Ways to Grow Your Author Following on Social Media
Jami Gold: What Scares You about Writing or Publishing?
Publisher's Weekly: Rosarium Bets on Multicultural Novels and Comics
An African-American creator writing novels about African-American characters, Campbell said he was often told that there wasn't a market for his work. He didn't buy it. "If you take all the people of color in the U.S. alone, that's a market of 100 million people, yet a lot of artists and writers are told there's no market for what you do," he said.
Nerdy


Mashable: Leonard Nimoy dies at 83
"Leonard Nimoy, the man who made Spock famous, passed away at age 83 on Friday. Nimoy, an actor, singer, photographer, poet and voice artist who was so much more than just Mr. Spock from Star Trek, was hospitalized in mid-February for severe chest pains."
Hypable: Eight Marvel spinoff shows that need to happen
io9: New Agents Of SHIELD Poster Reveals The Bad Guys Are Gonna Get FREAKY
io9: Watch James Cameron Walk Through His Real Life Avatar Theme Park
The Washington Post: The FCC approves strong net neutrality rules
"The Federal Communications Commission for the first time classified Internet providers as public utilities Thursday, a landmark vote that officials said will prevent cable and telecommunications companies from controlling what people see on the Web."
Anime New Network: Alas, the Power/Rangers Short Film Is Quickly Disappearing
Anine News Network: Dragon Ball Z: Light of Hope Live-Action Fan Pilot Recreates The History of Trunks
Japanator: OP Up! Naruto Edition
"I've forgotten just how many awesome songs were in Naruto openings and I still have them on my music players for some great listening. So let's go take a ninja dash down memory lane for a quick look at some Naruto openings."
The Mary Sue: Officially Official: Harrison Ford Will Star In The Blade Runner Sequel, So I Guess He's Not a Replicant
Geeks are Secy Too: Dorkly Comic: How Nerdy Experiences Change Over Time
The Verge: Swatch announces new touchscreen watch with fitness features
The Verge: Amazon wants to fit trucks with 3D printers to speed up deliveries
CNET: Augmented-reality game Ingress arrives on Android Wear watches
Nerdist: What Color is That Dress?
"the Internet is having a collective freakout over something pretty special — this dress and the picture that depicts it has found a very fine boundary boundary in our visual processing system, which evolved under very specific conditions…"
Nerdist: Daredevil Looking Bloody Good in This New Poster for Marvel's Netflix Series
The Mary Sue: Canary, Firestorm, The Atom, and Captain Cold Series in the Works at The CW as Arrow/The Flash Spinoff