"A strong conclusion sets this light fantasy a notch above its peers" Publisher's Weekly
While vacationing in Egypt. . .
Jeannette Walker, a cynical scientist jaded by swarms of tour groups and knick-knack shacks, is lured by a teenage tour guide to visit a newly discovered tomb. No other tourists there! Inside the chamber, she tumbles down a shaft and 3000 years back in time.
Now, in a world where deities walk the streets and prophecy stinks up the air, Jeannette is desperate for normal and the simple pleasures of sanitation and refrigeration. However, a slave master hawking a cat-headed girl derails her homebound mission, and Jeannette—penniless in this ancient world—steals the girl, bringing down the tireless fury of the slaver.
Saddled with a newly awakened mummy and the cat-headed girl, Jeannette, through her unparalleled experience gained from watching spy movies, contrives a plan to free them from the slaver's ire, but will she have to dive into the belly of the beast to succeed?
Trips were designed to be fun, a bit of adventure, a bit of pampering. She was ready for the spa treatment now. The tour planners had touted it as part of the package deal. She'd never had a spa treatment: no foot rubs, no facials. The knowledge that a hot bath and massage waited for her spurred her forward, though all she really wanted to do was close her eyes and open them again to her hotel room, the soft bed and bowl of fruit, the funky scent of the detergent that tickled her nose to the edge of a sneeze.


Damn it. This wasn't what she wanted.


Frustrated, she stomped across the floor, her hard-soled hiking boots clomping as her mind soldiered through her options to make it back to El-Balyana, let alone Luxor. With her thoughts leap-frogging from walking miles, to hijacking a camel, to the cost in dog lives of a taxi trip to her hotel, she didn't see the figure standing near the opened sarcophagus as she rounded the corner.


When she did, she froze.


Within the eon caught between one blink and the next, she absorbed details of the monster from a bad B movie: short, about her height, wrapped in linen gauze. Arms bound to its sides, it twisted and writhed, struggling to free itself from the linen embrace.


Then it moaned, a noise tapped straight from its slim chest, desperate and hungry, and Jeannette couldn't contain her own scream.
Three Great Lies
will be available August 6. Find it on
Amazon
.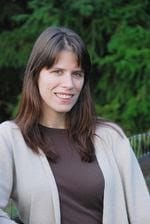 Vanessa MacLellan
was born and raised in the farmlands of eastern Washington, works as an environmental engineer, and is an avid birder, naturalist, gamer, and runner living in Portland, Oregon. Her website is
vanmaclellan.com
.
If you want your fantasy or horror book featured, email me at audendjohnson(at)gmail(.)com