Those who follow this blog know how much I love Bookstagram and photography. I'll be releasing a photo book, this year or next year. I've been trying to figure out a theme. I think book/journal photography would be pretty interesting. I have enough photos. I wonder if I'll run into copyright issues publishing a photo book of books. I'll have to research it.
Usually, I'd take books outside and find good photo spots.
Since it's cold outside, I don't do that often. Plus, there's snow on the ground. Water and books do not mix. I started taking photos of books inside.
When shooting outdoors, nature can provide some good scene decorations. I have to get creative when shooting indoors, decorate the scene with things I have on hand. I also read that bookstagramers use pages from ARC's they don't read. I use book pages and open journals as background. I also use random decorations from around the house like candles, fake flowers, tiny masks… a nice pen also works too.
Lighting has been one of my biggest problems. The lights in my apartment make all my photos come out too yellow and too dark.
I can fix this in Lightroom. I'd rather get the shot right…or as right as possible.
Funny enough, I discovered by accident I can fix this problem with my flash. Seems simple, I know. I got out of the habit of working with flash because, most times, it washes out the color. Recently, I started using my camera's auto mode to focus on composition and get a better handle on exposure. I was lining up my journal shot and the flash popped up. My first instinct was to close the flash but I decided not to. Turns out, flash unsaturated the photo.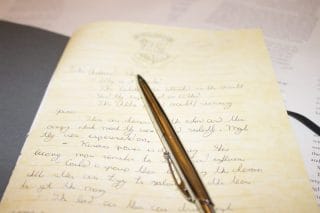 It also puts more emphasis on the pen. Too much emphasis while washing out the paper.
I moved the pen.
Not bad. I don't know if I like the pen being on the side like that, though.
Different angles can make the photo too white.
We've completely lost the paper's texture. Besides, shots of the journal straight down can be kinda boring.
To bring back the paper's texture, I took my camera off auto mode.
Better. A bit too dark but the pen isn't glowing. We have some nice texture. The paper looks more like parchment.
I took shots from different angles.
And different backgrounds.
Since my setup was on the floor, Oreo took the opportunity to get in the photo. She acts like anything on the floor belongs her. Of all the places to sit, why there?!
I try not to get carpet in the shot. It can be cropped out but that often changes the photo.
It took some time and editing to figure out which one I'd share on Instagram.
I like this angle. The composition is better.
Just for fun, I made everything but the pen black and white.
Find me on Instagram!