Summer is in the air! My writerly pals and I are sharing summer moments and inspirations in the C*U*R*R*E*N*T*L*Y – Summer Blog Hop. Please have a read and enjoy. Then, visit the other #Gr8Blogs listed at the end of this post for more Summer 2017 C*U*R*R*E*N*T*L*Y inspiration.
Currently Loving
I
mentioned awhile ago
that I'd been looking for a job since last year. My financial situation became so bad I had to get on welfare. My landlord took me to housing court because I was 2 months behind on my rent. After a year, I finally have a job!!!
Currently Reading
I usually read more manga than novels. Right now, I'm going through Fairy Tail. I'm trying to find other manga to read. Thinking of starting Brave 10. I loved the anime. I'm going back and forth about starting Tales of Demons and Gods.
Currently Watching
I'm rewatching Red vs. Blue on Netflix. It's a funny show. Perfect for relaxing me at the end of the day or listening to while I'm writing. I've also been watching Markiplier play Prey.

Currently Writing
I'm supposed to be working on two stories. One made it to my computer. The other is still in my head. I'm thinking about the opening for Book 4 of The Jura series. I'm also working out how Book 4 of The Merging World series will progress. The world building is pretty intense.
Currently Making Me Happy
Over the weekend, I was in the mood to take some interesting photos. I took the Staten Island Ferry at sunset and got some amazing shots. I still haven't gone through them all.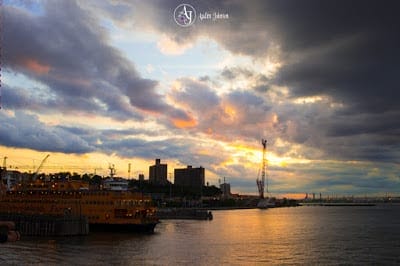 Currently Seeing in My Camera Lens
Actually, here's what I didn't see through my lens. May 29th and 30th was Manhattanhenge. The setting sun aligns with NY streets to make an amazing shot. But, both days were cloudy soooo… no pretty sunset for me. Fortunately, Manhattanhenge happens again in July. The above shot is from last year. It's an experience. Crowds of people standing in the street, blocking traffic while taking pictures of the sunset.
…
Thanks for stopping by! For more Summer 2017 C*U*R*R*E*N*T*L*Y moments, follow
#Gr8blogs
or visit the blogs below.

If you're pumped about writing your own C*U*R*R*E*N*T*L*Y post, just add your family-friendly Currently blog link to your blog post in the comment section. We'll visit and give you some blog love!
Julie Gorges
Tracy Bryn

Sandra Bennett

James Milson