You see the hashtag QuarantineLife or the memes that introverts and gamers have been preparing for this their whole lives. They make you laugh, nod your head in agreement. I'm still laughing at this video posted on Twitter.
Streaming platforms during quarantine pic.twitter.com/F2TtAIjOWE

— KEATS (@keatsdidit) March 21, 2020
Then, you walk outside and the streets are empty. An hour commute now takes 30 minutes because no one is on the road. Your city shuts down and you don't how you're going to pay your bills. Reality sets in.  You're so scared you can't breathe.
This was Times Square on Friday.
Some blogger friends and I have gotten together to write posts on how to cope in a coronavirus world.  Below are some of the things I'm doing while living in the epicenter. At the end of the post, you'll find more tips on staying positive during this stressful time.


Begin that Project
You've probably seen that meme about famous people who created their most notable works during isolation. Most artists struggle to find time to do all the things they planned, especially those who work full-time jobs. You have time now. I have 3 books in the works and a ton of photos I can add to my portfolios. I don't exactly know how much free time I'll have but I already have more than usual. Because of the virus, I've been getting home at a reasonable time. You never know, maybe this new project will lead to an online side-hustle that'll get you through this time where you're either not making any money or you're making less than you're used to.
Exercise
I'm one of those weird people who enjoys exercising. I don't do it often because I work 9-10 hours a day Monday-Friday, sometimes taking work home. When the NY cases started jumping, I found I'd wake up at around 2 or 3 in the morning and wouldn't be able to go back to sleep. The reason was obvious, I was worried and it was keeping me up at night. But, I still had to work so I needed sleep. I started exercising in the evenings, thinking that would clear my head enough to get some sleep. It worked.
Yoga would be the obvious choice but I'm not a fan. I've tried different kinds of yoga and it's just not enough for me. Kickboxing is my favorite exercise. I also like Tai Chi, which is interesting because it's like yoga standing up. I think I prefer exercises where you're constantly moving.
Amazon Prime has a good kickboxing video. I haven't found a Tai Chi one yet but I'm still searching. Obviously, they need to be free (freeish- included in one of my streaming services) because I don't know when I'll be getting my next paycheck.
Play Games
Animal Crossing New Horizons and Doom Eternal literally just came out last week and they were right on time. New York just shut down (almost) everything. Since both games cost a lot, I had to choose one. Animal Crossing mostly because I'm new to the Doom series, still playing Doom 2016. It's been a nice and distracting way to spend my free time. It's even more fun to take screenshots and share them on Twitter. Games, whether alone or with family, is a great way to kill time when you're forced to stay inside. It may also be a good way to relieve some tension when you're tired of looking at the same people all day every day.
Read/Listen to a Book
Like most people, I read to escape. Like most bookworms, my to-read list is overstuffed. For a while now, I'd been trying to read the Fairy Tail manga 100 Year Quest but I couldn't find it in English. It's available now!
Also, I  just learned one of my favorite animes, Bleach, is returning. I stopped reading the manga a while ago partially because I heard people were angry with the ending. But now that the anime and manga are continuing, I'll be picking it up again.
When I'm reading, I forget I'm on an almost empty training during NY rush hour. All the chaos and worry just disappear when I fall into a good story.
Call/ Video Chat Someone
We may have to distance ourselves from others but that doesn't mean we can't talk to them. When things get a bit too much, call a friend or family member. You don't have to talk about anything important. I find letting them talk about anything calms me down.
Photography (Find Something You Love Doing)
I don't know how I can keep doing this but so far, taking photos of the city has helped me immensely. Just the act of photographing is relaxing, observing the area and setting up the perfect shot. It's spring and my neighborhood is in full bloom. It would be nice to take a long walk and photograph all the flowers. But, the whole point of the shutdown is to make people stay home. Our governor did say it was all right for us to go on walks but, I don't know.
Do you have a hobby that consumes you? Dive into that. If you don't have a hobby, maybe spend some time now to find it. Escaping into something you love helps a lot.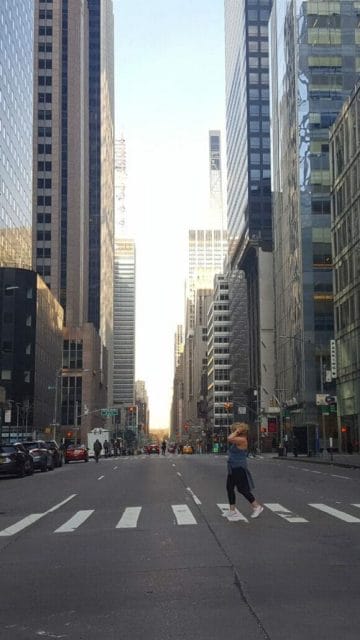 The world is a mess. It's scary. It may be this way for a while. When it's over, the recovery is going to be a beast. Life comes with problems and you've probably had your share. When life gets a bit too much to handle, what do you do usually?
What if you're an extrovert. What if you enjoy being about people? Even introverts have moments where they want to be around people. How do you cope with the loneliness? Here are a few articles for you.
The coronavirus-required quarantines and social distancing aren't easy when you live alone
Here's How to Avoid Loneliness and Isolation When You Live Alone and Work From Home
You may feel alone but you are not. Everyone in the world is going through the same thing. For those who don't know when your next check is coming in, you will survive. It will be hard. I'm not going to lie to you. To say it feels awful is an understatement. I've been poor before. I've battled my landlord in housing court, several times. I've gone to bed hungry. It's not something I want anyone to experience. But, I'm still here. I saw the other side. We will see the other side.
What are you doing to stay calm and sane? Please share in the comment section. But before you go, click over to more #Gr8Blogs for more inspirational advice.
Cat Michaels- I Refuse to Waste Away in Coronaville
Rebecca Lyndsey- Coping in Coronaville
Rosie Russell – Ideas on How to Cope in a Coronavirus World
Julie Gorges – Ten Things Baby Boomers Can Do if Self-Quarantined
Chris Gorges – 7 Ways to Cope with Coronavirus Fatigue
Carmela Dutra – How to Stay Positive in a Coronavirus World
James Milson – It's Here — Coping With The Coronavirus Challenge Now