Jessica Frances is giving away a $50 Amazon Gift Card. See Rafflecopter at the bottom of the post.

Title: Revolution
Author
: Jessica Frances
Genres
: Dystopia, New Adult
I was raised in a world where humans no longer rule.
In the past, we made a terrible mistake by creating a new species we thought would serve us as our army, which led to our downfall.

There was a war, we lost, and many lives were massacred. It was the end of life as we knew it and the beginning of a hell we were now trapped in. We became enslaved to what we now called Superiors, becoming pets to them, simply there to entertain.

In a world so miserable, I managed to do the unthinkable: I fell in love. But even that was doomed, because to love a Superior was forbidden.

What the rest of the Superiors didn't know was how deeply a human could love or how resilient we became when we were hurt.

The Superiors never could have imagined an uprising, which was why they never saw it coming.
Humans deserved to be free, and I would stop at nothing to deliver that promise.
My name is Tilly, and I am still alive with one sole purpose: to begin a revolution.
~
I had been raised to believe humans were worthless. We owned them and controlled them, and when we were done with them, we threw them away. Therefore, I never thought I would ever feel more for Tilly than disinterest. I never expected to want to save her.

It was forbidden for a Superior to love a human. No one had ever crossed that line, but I did. I fell madly in love with her, so it was no surprise how we ended up.

I was raised to be a soldier, and that was what I was always going to be. However, I was not a soldier for the Superiors, not anymore.

I became a soldier for humans, and I would stop at nothing to help them. They deserved to be free, and I would die protecting them.

My name is Johnny, and I am here with one sole purpose: to finish a revolution.
"Johnny?" Tilly whispers.
I try to tell her I'm sorry. I try to apologize for failing her, needing to tell her one last time that I love her, but my voice is trapped inside me.
Rough hands pull me away from her. I fear it is only to get a clear shot at Tilly, but the hands keep dragging me until I'm crying in pain from the jolts that each knock of the stairs give me. Then we finally make it outside where Joseph leans over me.
"You are willing to die for this human?"
I can't answer him, but I manage to nod my head.
"Then so be it. Just know that your death has meant nothing. She will suffer because of this; I will make sure of it. Every strike, every whip, and every kick will remind her of what you have done to her and that this is your doing. She will hate you before I kill her. And mark my words, she will die. So, I hope that was worth your life."
Adrenaline pumps through my body, but I am too weak to fight, too wrecked to do anything except keep bleeding out over the ground.
This is my fault.
Please forgive me, Tilly.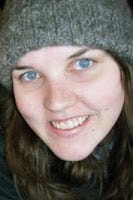 Jessica lives in Adelaide, South Australia. When she is not writing, you can find her reading, napping or watching excessive amounts of TV. Connect with her on Facebook and Goodreads.