I've hiked the Cornish Trail in Hudson Highlands State Park a couple of times. It's a pretty chill walk with a nice abandoned building about 1 mile in. I spotted something different over the weekend. Maybe it's new. More likely, I hadn't noticed it.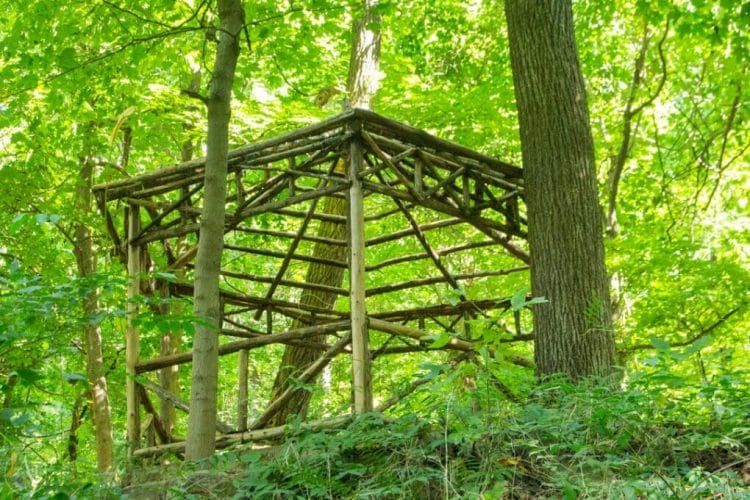 The wooden gazebo sat atop the hill a little off the beaten road. I'm reluctant to call the path to it a trail, but it led to the structure. You would miss it if you weren't paying attention. Even as I examined the path, I doubted it was something walkable. It was narrow, almost completely overtaken by grass. But, this state park doesn't discourage you from walking off the path, at least not in certain areas. I tired it and made it to the top. 
It reminds me of the writing world. 
I love fantasy but writers seem to default down the well-trodden path to certain locations, time periods and races. I often fall into this category as well which is why I like to collect images of unique fantasy landscapes, buildings, characters and animals designs. Fantasy is awesome because of the freedom to create almost anything. 
I'm currently writing a couple of haunted location stories and it's been difficult to not walk down the beaten path with them. I'll talk about that in a later post. 
Fortunately, I am seeing more creative fantasy worlds as the genre opens to more diverse voices. Self-published authors are experimenting with world building. 
If you like dragons, why not create your own instead of relying on established lore. How about making elves who aren't pretty and wise? How about making dark-skinned elves the good guys, not just one of them as in the Drizzt series. I do like that series, though. 
Traditional fantasy stories are fun but I do enjoy it more with authors walk off the beaten path.