I got into book cover design for fun. Mostly, I couldn't afford to hire a freelance designer so I had to figure out how to do a lot of stuff myself. Now, design has been added to the things I do to relax. I photograph, play video games, open photoshop and create a map or book cover. Since 2014, I've published 15 books, creating all the covers. Most recently, I've jumped into hardcover book design. Here are a few things I've learned over the years.
CMYK is King
If you submit a file with an RGB color profile, it will get rejected. Same with your interior file. CMYK is for printing. RBG is for digital.
300 DPI is Queen
For print, your images need to be fully HD or your file will get rejected. 72 dpi works fine for digital but it's not good for print. In Photoshop, the dialogue box just says resolution, not dpi. Make sure resolution is always 300 and not higher. IngramSpark will let your file go through with a resolution above 300 but they'll warn you that your book could take longer to print.
You have less book description space on a hardcover jacket flap
I mentioned in the post Improving Town and Country Maps for a Fantasy Story that I'm working on a special hardcover edition of The Sciell. Here's the jacket cover.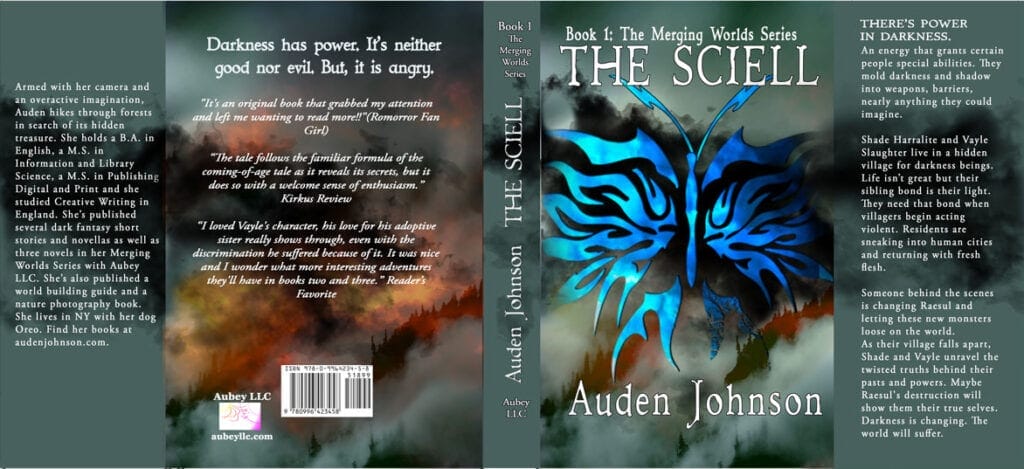 I had to rewrite the book's summary because I knew the original one wouldn't fit in the small space and still be readable.
Your spine's text faces book's back cover
Years ago, I designed a print book cover with the spine text facing the wrong direction. I hadn't realized my mistake until I ordered a proof and put it on my shelf.
This is right.
You want your book to be professional. If you look at all the books you own, the spines all face the same direction.
Keep Your Originals
When doing book cover design, I usually create the ebook version first to share on social media and then design the paperback version from it. If you work the same way, you need the original editable book cover file to create the print version.
Here's an example of a book cover template generated by IngramSpark.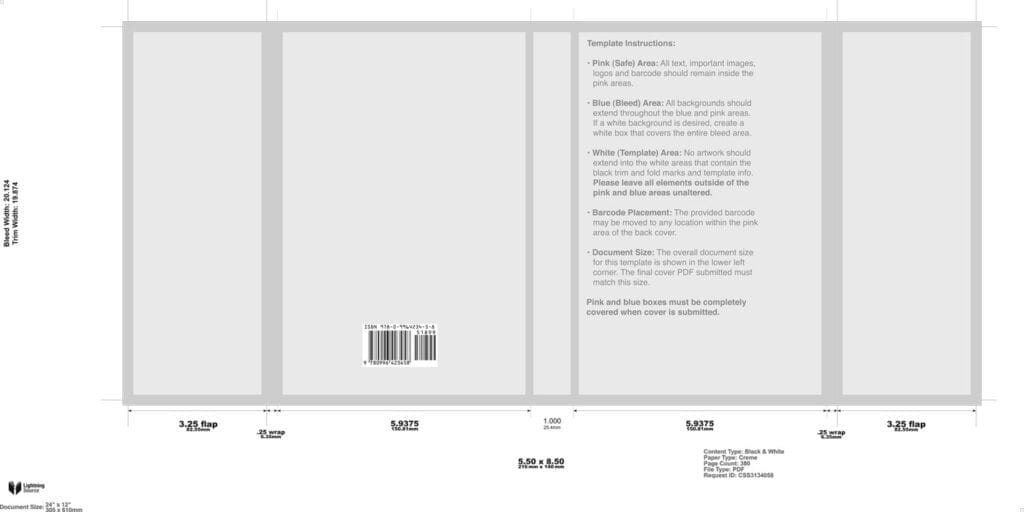 Your image needs to cover everything gray. But, you don't want anything important to sit in the dark gray space. That area gets trimmed. Sometimes, a jpeg version of your cover will fit neatly onto this image. For me, that never happens. Text will usually sit in the dark gray area and I have to be able to move things around.
Something like this: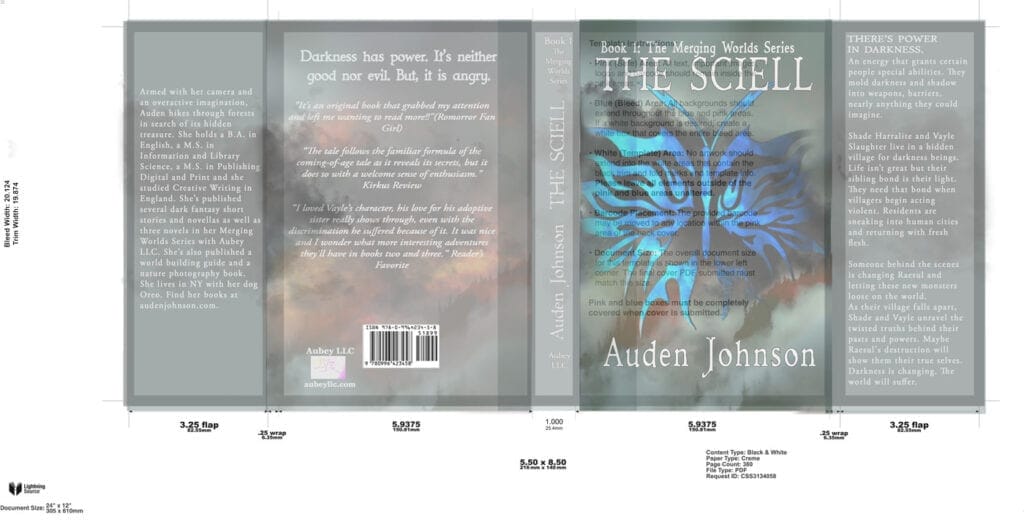 Years ago, I made the mistake of not keeping the original editable version of a cover. I had to recreate the entire design to work on the paperback cover. Keep your originals. I have no idea what was going through my mind when I got rid of the original version of The Sciell.
Keep Your Files Organized
Finding covers for books in my Merging Worlds series is kind of a pain. Back then, I wasn't organized. I also have several different versions of the same cover. It's hard to find the one I'm looking for. Even in the middle of a pandemic that has us stuck at home, I don't have the time to dig in and organize the files. I may have to make time, though.
You can't design paperback or hardback until the end
Book cover templates from sites like Amazon KDP and IngramSpark will ask for the number of pages ib your book. They need to give you the correct spine width. You can't know that information until the book is finished and fully laid out.
Use the Spine to Fake a Spread
I love when the front, back and spine all look like one image. But, often, the background image doesn't spread properly without changing the front cover. The easiest way would be to design the paperback cover first. I don't do that for the above reason. So, I have to get creative.
Here's the paperback version of Book 2: Chains of the Sciell:
It's not aligned perfectly. But, I knew it would look perfect when the book got folded at the spine. I couldn't stretch that house to cover both the front, back and spine. So, I used the spine as a kind of connector.
The Lost Sciell has a smoother look.
If you want a hardback with a dust jacket…
Both InsgramSpark and Lulu lets you print hardcovers with dust jackets. I'm using IngramSpark because I'm hoping to get into libraries and bookstores in the pandemic-free future.
---
I may have to try Lulu one day. For The Sciell hardback, I'm finding, with IngramSpark, that I have to price this book well above the market to make any money.
---
You see those hardback books with a different cover design when you take off the dust jacket. I want that. I don't know if Lulu lets you do this. If you know, please comment below.
That second cover, under the dust jacket, is called a case wrap. Keep that design simple. If you look at most hardback books, the case cover is often a simplified version of the jacket. Sometimes, it's different but still fairly basic.
I'm going back and forth between two designs. This one is more unique:
But cases usually look like this: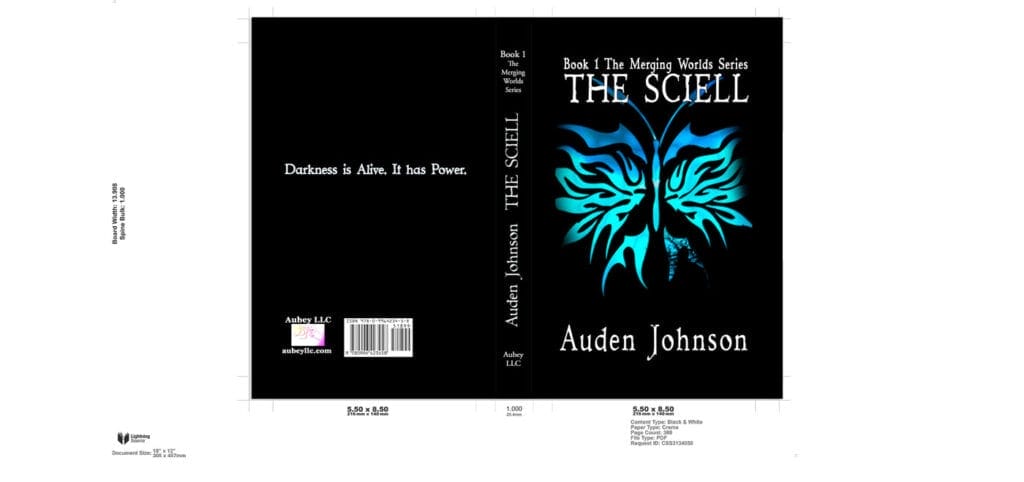 Do you have any questions about book cover design? Comment below.