Have you ever returned to an old fantasy story, or any story, and go, why did I think this was good? Design is kinda the same thing. My first creations were okay but I'm still learning. Years later, or even tomorrow, I may look at these designs and go ick. That's the life of an artist. We're always honing our craft.
Partially for fun, I'm releasing a fancy hardback version of the fantasy story The Sciell: Book 1 of The Merging Worlds Series with updated images. Probably not the best idea. Especially now that in-person events aren't a thing. I don't know how well print does for indie and small press authors. I believe, unless we're looking to get into bookstores, libraries and schools, digital is the way to go.
But, ever since I released To Other Worlds through IngramSpark, I'd been planning to republish all my paperback books through that publisher. Since IngramSpark gives you a bit more room to exercise some creativity, why not go all out?
New Country Map
For this book, I'll be updating all the interior images. Jael, the main landmass in the Merging World Series, has gone through several redesigns.
That's the first one. It's okay. Not great. It gets the job done.
I updated Jael for each book as new locations were introduced. The map became this for Book 2.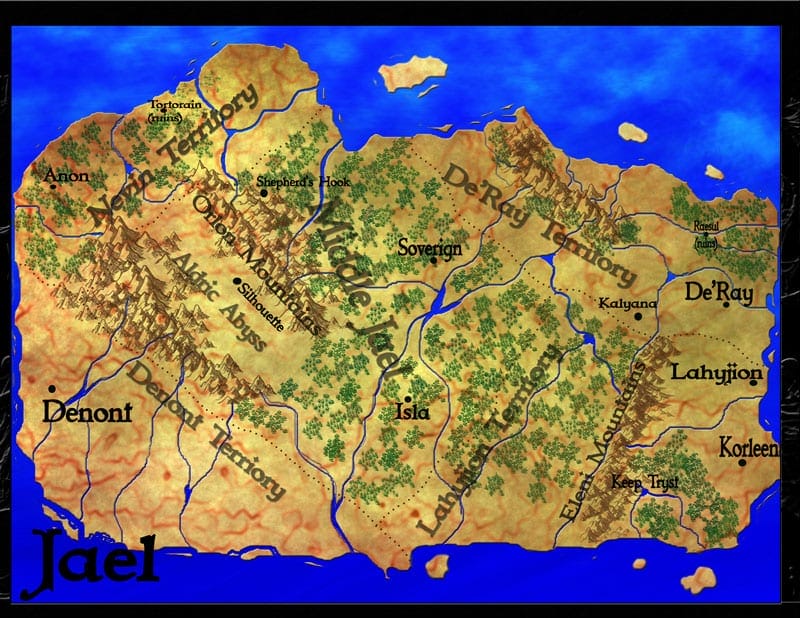 Then this for book 3.
I had to revisit this design anyway. I'm trying to get better at making my map more accurate. The rivers aren't right. Here's the new map for The Sciell.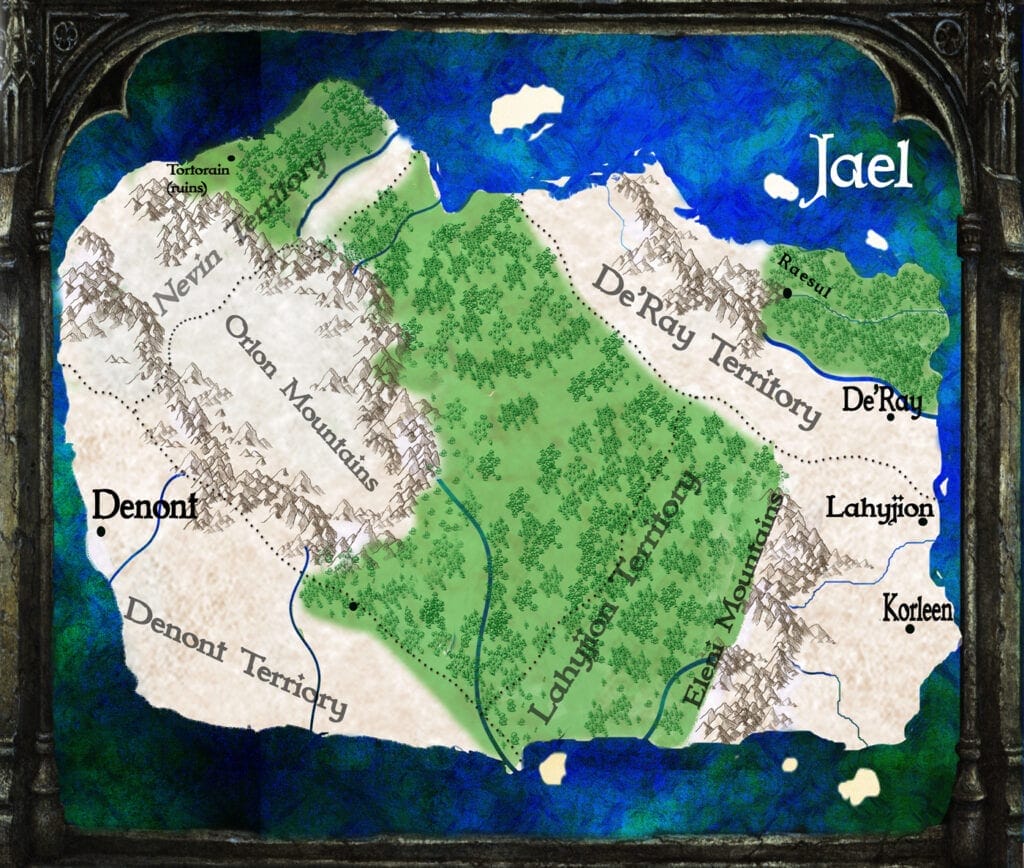 There's a good chance I'll be returning to this to tweak some things. I may have to restrain myself. You can keep working on a project forever by making small tweaks no one will probably notice.
New Town Map
Then there's Raesul, the main town in The Sciell.
Not bad. But again, could be better. I hadn't revisited this since I published Book 1. Here's the new version.
---
Both maps will be spread across two pages. They won't be in colors but they still should be pretty.
I made all these in Photoshop either by drawing them (in Jael's case) or putting them together using stock images (Raesul second version). The mountains and trees I made using a brush set I found on DeviantArt. I wouldn't say one method is easier than the other. They're both fairly time consuming and the final product uses a lot of memory on my computer. But they're fun. These maps got me using Photoshop's Pen tool which I'd been avoiding because it's a pain to learn.
If you have a questions about map making or publishing on IngramSpark, comment below.