"The north is Chile's vast desert region – an epic landscape of sand dunes, sun-baked ochre earth and white-sand cliffs. The land rises from the coast to the arid altiplano, where camelids roam, pink flamingos fly, and pointed volcanoes overlook brilliant blue lagoons. Port-cities line the coast, while indigenous hamlets and oasis villages with adobe churches bring the desert to life." (from Norte Grande and Norte Chico by Divya Chowfin)
Sounds beautiful, doesn't it? I bet the desert region is a wonder to explore. Doesn't mean, there aren't some shadows in its history.
Humberstone (Oficina La Palma) in Chilie's Atacama Desert was built for mining saltpeter also known as "white gold". Saltpeter was in high demand during the late 1800s and early 1900s because it was used in explosives and fertilizers.
It seems towns like these, ones built around a specific business, are often haunted. Usually due to poor working conditions that often caused a high death rate. Sometimes, the hauntings are the result of the owner's carelessness that led to a lot of being getting sick and dying in a short period of time.
From the recent accounts of people who visited Hunderstaone, they all commented on just how hot it is. Miners were often required to work for several hours under the harsh sun with no breaks, shade and little water. Articles often referred to the workers as slaves.
Over 3,000 people flooded this town as the demands for this white gold exploded. In its heyday, the Humberstone was one of the busiest mining towns in the area.
Despite now being a ghost town, Hunderstone has been fairly well preserved. In 1970, the town was declared a national monument by the Chilean government and a World Heritage Site in 2005.
I found a lot of information on Humberstone but only one source talked about any paranormal activity. According to the article, people frequently see black shadows. Some claim to spot ghostly children in the old schoolhouse, walking the hallways and disappearing without warning.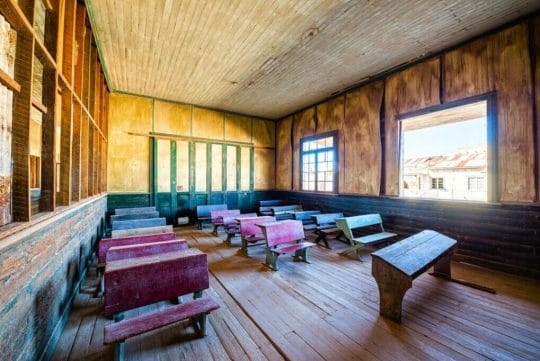 Unexplained knocks, bangs and doors slamming shut are reported to be the most common.
But, why is it haunted? Was it simply the terrible working conditions?
We may need to look to La Noria for answers. Apparently, the dead in La Noria's cemetery rise at night and walk the town and Humberstone. La Noria has a similar history. It started as a saltpeter mine that went under around the same time as Humberstone. Northern Chile had been the largest supplier of saltpeter in the world which inspired the creations of several mining towns. The workers were treated like slaves and most, including children, died due to poor working conditions and accidents. They were buried in shallow graves in a nearby cemetery.
If you visit La Noria today, you'll see these shallow graves, dug up with open coffins showing partially dressed skeletons. Most believe grave robbers were to blame. Ghosts or no ghosts, this would be a scary enough sight, especially in the dark. Some say the ghosts are angry about their grave being disturbed. Others say, their rage stems from how they were treated during life. It's been reported that people have traveled to La Noria never to be seen again. People have also claimed to hear disembodied voices and footsteps.
Digging a little further into Humberstone, I found out about the "massacre of the Santa María de Iquique school". In 1907, thousands of saltpeter miners, men, women and children, went on strike to demand better working conditions. The government ordered them all killed. This didn't happen in Humberstone or La Noria, though.
I came across Pisagua during my research, which has an even dark history. But, that's for another post.
Sources:
Haunted Humberstone: Abandoned Ghost Town in ChileHumberstone: A Chilean ghost town's English past
Inland from Iquique by Melissa Graham and Andrew Benson
Norte Grande and Norte Chico by Divya Chowfin
The ghost towns of northern ChileChile : 1907 Santa María de Iquique massacre
Haunted Humbderston: Abandoned, creepy ghost town in chile
From boom to dust: Eerie pictures show northern Chile's once bustling mining communities reduced to rusting ghost towns