I've been struggling to find adult fantasy and horror books to read. Maybe my tastes are slowly changing but most books I start, I don't finish. If I do finish them, I didn't enjoy it enough to buy the sequel. Mostly, I've been listening to story podcasts like NoSleep and Scary Stories Told in the Dark. I've kinda given up on novels and instead focus on manga.
I've caught up with Fairy Tail: 100 Years Quest. Waiting for the next volume.
It's one of my favorite series. If you want to jump in, I'd suggest starting with Fairy Tail Vol 1. This series is long so you'll have plenty to read. I've also been binging anything by Junji Ito. He's one of my favorite mangakas. If you're a horror lover, I highly recommend him. I started with Gyo, then moved to Uzumaki. Now, I'm inhaling his short story collections. I just finished Shiver. The artwork will give you nightmares.
I might do another post about manga. But, I do want to get back into adult fantasy and horror books, like actual novels. Reddit's r/fantasy is a good place to find fantasy recommendations. It's also a great resource for fantasy writers. I talked about that in the post Who Is Your Fantasy Book's Audience? Reddit Can Help. I actually found books I'm excited about reading.
Smoke and Stone by Michael Fletcher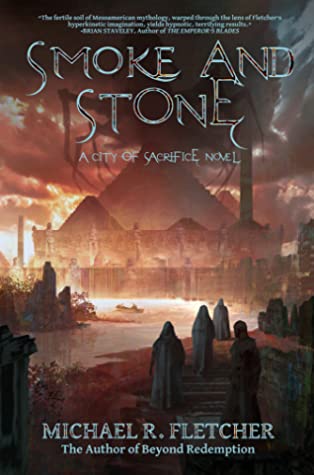 After a cataclysmic war of the gods, the last of humanity huddles in Bastion, a colossal ringed city. Beyond the outermost wall lies endless desert haunted by the souls of all the world's dead.
Trapped in a rigid caste system, Nuru, a young street sorcerer, lives in the outer ring. She dreams of escape and freedom. When something contacts her from beyond the wall, she risks everything and leaps at the opportunity. Mother Death, a banished god seeking to reclaim her place in Bastion's patchwork pantheon, has found her way back into the city.
Akachi, born to the wealth and splendour of Bastion's inner rings, is a priest of Cloud Serpent, Lord of the Hunt. A temple-trained sorcerer, he is tasked with bringing peace to the troublesome outer ring. Drawn into a dark and violent world of assassins, gangs, and street sorcerers, he battles the spreading influence of Mother Death in a desperate attempt to save Bastion.
The gods are once again at war.
The Demonic by Lee Mountford
Danni Morgan thought she knew fear, but she is about to find out what it is to be truly afraid.
Years ago a young girl ran away from her childhood home and vowed never to go back. It was a place of fear, pain and misery at the hands of an abusive father. But now her father is dead, and she is forced to break that vow and return home – to lay his body to rest and face up to the ghosts of her past. However, Danni is about to learn that some ghosts are more real than others. Something beyond her understanding waits for her there, lurking in the shadows. An evil that intends to kill her family and claim her very soul.
Experience supernatural horror in the vein of The Conjuring, Insidious and the legendary Ghost Watch. The Demonic will get under your skin, send chills down your spine and have you sleeping with the lights on!
They Come Out at Night by Benedict Patrick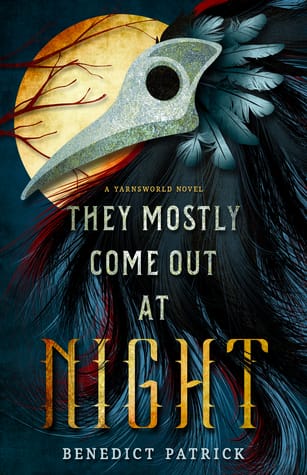 He locked himself away from the dark, but in the Magpie King's forest nowhere is safe…
Lonan is an outcast, accused of letting the monsters that stalk the night into the homes of his fellow villagers. Now, he will not rest until he wins back the heart of his childhood love and reclaims the life that was stolen from him. However, locked safely in his cellar at night, in his dreams Lonan finds himself looking through the eyes of a young prince…
Adahy has a destiny, and it terrifies him. How can he hope to live up to the legend of the Magpie King, to become the supernatural protector of the forest and defender of his people? But when the forest is invaded by an inhuman force, Adahy must rise to this challenge or let the Wolves destroy his people.
Watching these events unfold in his sleep, Lonan must do what he can to protect his village from this new threat. He is the only person who can keep his loved ones from being stolen away after dark, and to do so he will have to earn back their trust or watch the monsters kill everyone that he holds dear.
They Mostly Come Out At Night is a Dark Fantasy novel from Benedict Patrick's Yarnsworld series. If you like Neil Gaiman and Patrick Rothfuss then you will love this captivating, dangerous world in which ordinary people struggle to find their place in a land ruled by stories.
Perdido Street Station by China Mieville
Beneath the towering bleached ribs of a dead, ancient beast lies the city of New Crobuzon, where the unsavory deal is stranger to no one–not even to Isaac, a gifted and eccentric scientist who has spent a lifetime quietly carrying out his unique research. But when a half-bird, half-human creature known as the Garuda comes to him from afar, Isaac is faced with challenges he has never before encountered. Though the Garuda's request is scientifically daunting, Isaac is sparked by his own curiosity and an uncanny reverence for this curious stranger. Soon an eerie metamorphosis will occur that will permeate every fiber of New Crobuzon–and not even the Ambassador of Hell will challenge the malignant terror it evokes.
The Gutter Prayer by Gareth Hanrahan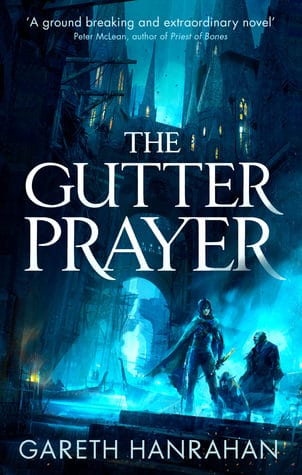 A group of three young thieves are pulled into a centuries old magical war between ancient beings, mages, and humanity in this wildly original debut epic fantasy.
The city has always been. The city must finally end. When three thieves – an orphan, a ghoul, and a cursed man – are betrayed by the master of the thieves guild, their quest for revenge uncovers dark truths about their city and exposes a dangerous conspiracy, the seeds of which were sown long before they were born.
Cari is a drifter whose past and future are darker than she can know. Rat is a Ghoul, whose people haunt the city's underworld. Spar is a Stone Man, subject to a terrible disease that is slowly petrifying his flesh. Chance has brought them together, but their friendship could be all that stands in the way of total armageddon.
I'm currently listening to The Demonic on Audible. Loving the voice acting so far. I'm still at the beginning so, holding judgment. I can't wait to dive into these books. It's been a while since I've found any novels I'm excited about reading.