Don't look at someone on top of the mountain and forget they had to climb to get there. Thoughts like that kept crossing my mind as I hiked up Mt. Taurus/Bull Hill near Cold Spring, NY.
Living in NY for 11 years, the crowds and the closeness are starting to get to me. More often, I spend my weekends hiking the Hudson Valley. I haven't done it in months because everything was closed. Since NY is opening, so are the trails.
But COVID isn't gone. I had to be careful. I left my apartment earlier than usual to avoid any crowds on public transportation. I chose a trail said to have moderate traffic which meant there'd be certain stretches where I'd be alone. I wore a face mask and brought gloves for those points where I couldn't stay 6 feet away from people or I crossed someone who wasn't wearing a mask.
Before I left, I researched the trail to get an idea of the terrain and the type of photos people have taken. I don't hike just to be around nature. I'm chasing the views. Part of my research involves looking at photos to see what kind of views I'll get. I keep those photos in mind to capture something different. Fortunately, Bull Hill didn't seem like a popular spot.
If you're coming from the Cold Spring Metro-North train station, you have to hike to reach the trailhead.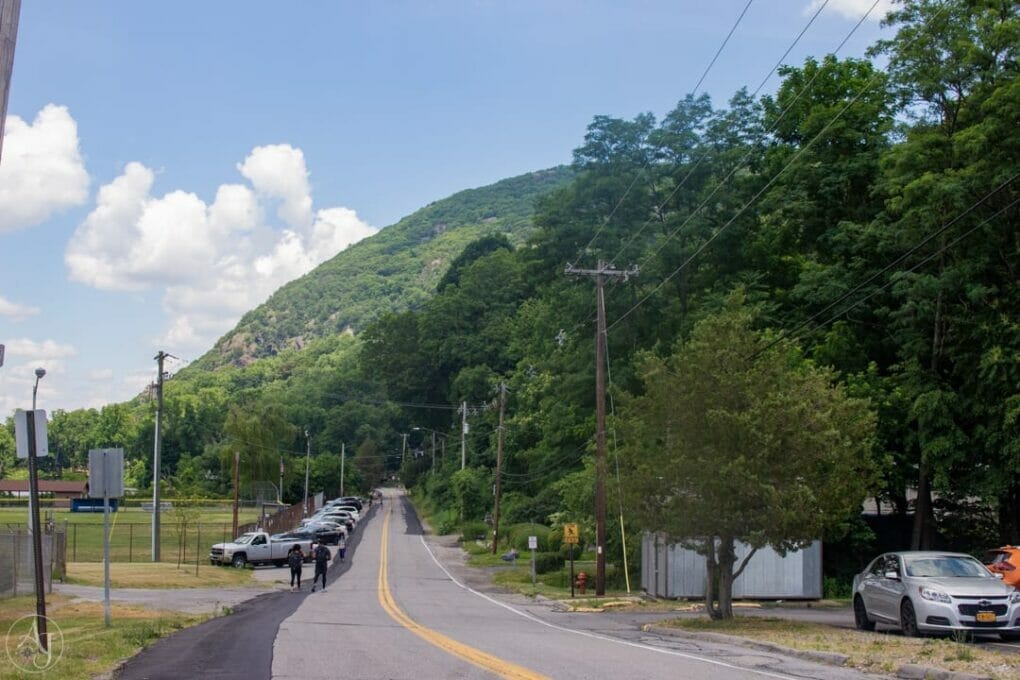 It wasn't the longest I've walked but is it a pretty long walk when you're destination is a hike up a mountain. I knew the trail would be strenuous. I took my time getting there, enjoying the sights along the way.
I highly recommend, if you can, shooting your photos in RAW. Since I left NY earlier than normal, I got on the trail around midday. It was hot and the sun was high. Midday under clear skies is usually a bad time of day to take photos because the sun is so harsh. It wreaked havoc on my photos' exposures.
But, I didn't worry about it. With a combination of Lightroom and RAW photos, I got back the parts of the images that were underexposed. For those who don't know, RAW is another image format like jpeg.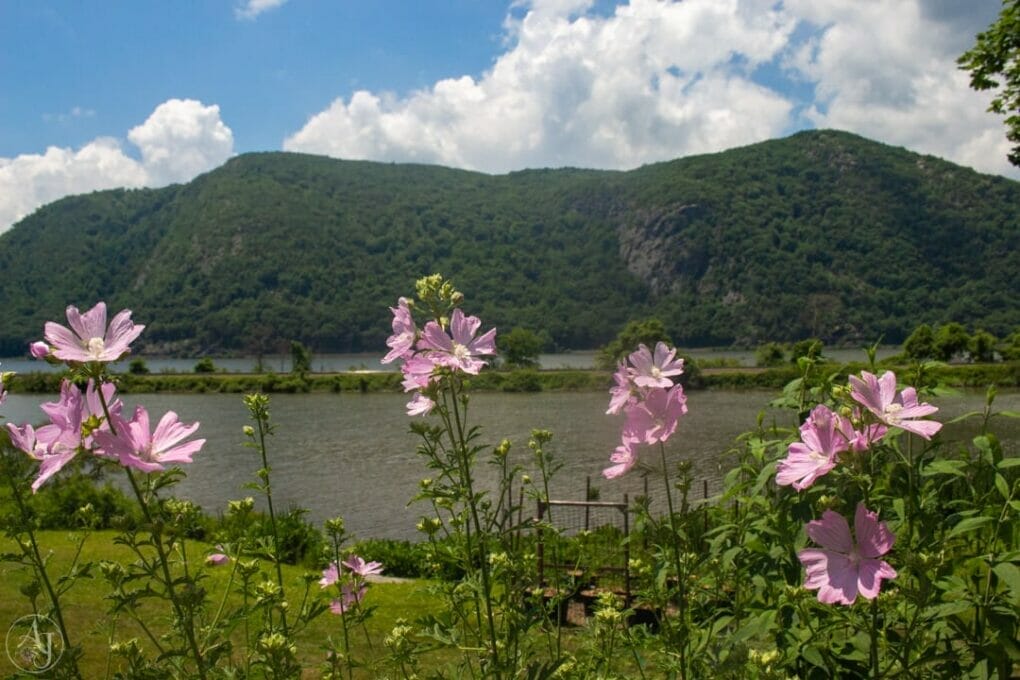 This was just a view on the way to the trail.
From my research, I knew the trail would be uphill. When I saw this, I wasn't really surprised.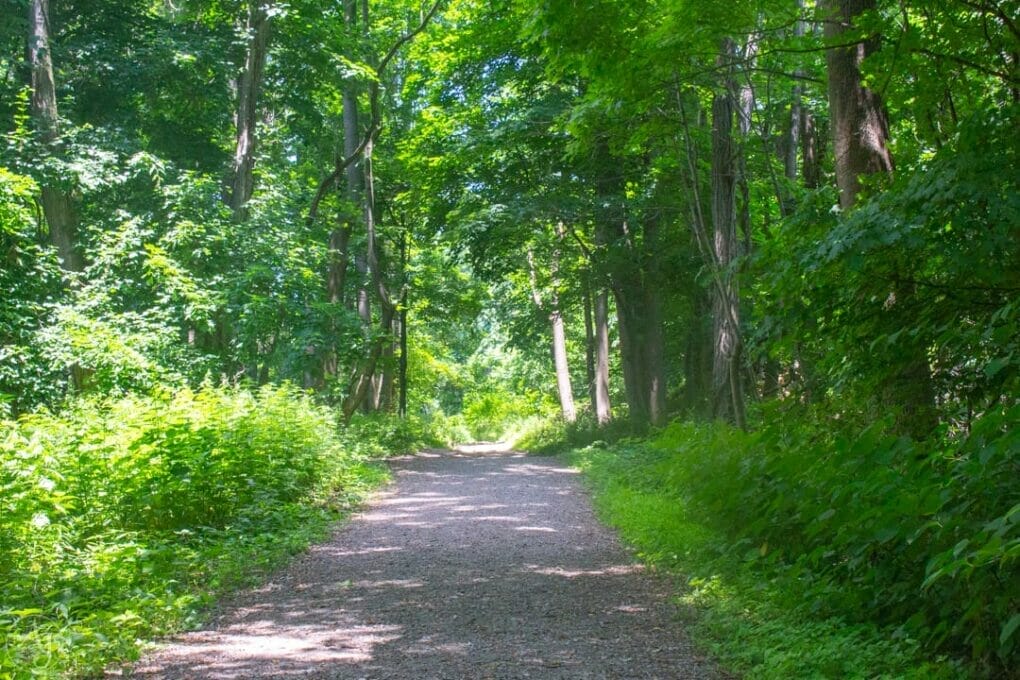 Last time, I hiked uphill, I walked like it was in a race. I took a slower pace this time and was rewarded with a nice surprise.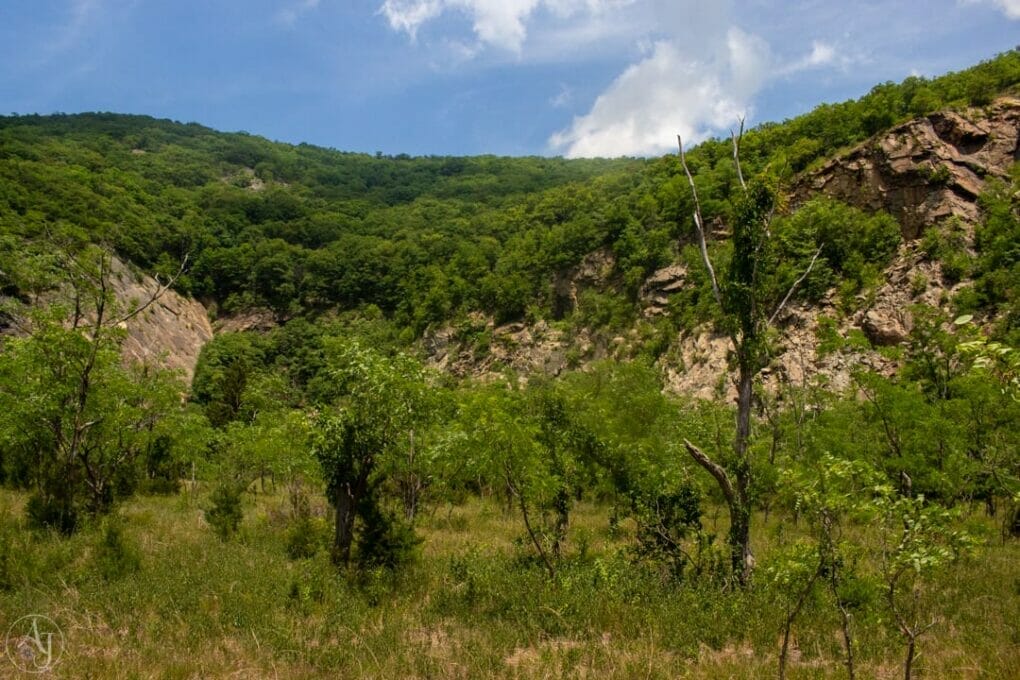 It felt like I was standing in a canyon. Out of all the photos I saw during my research, I never came across that scene.
But, that wasn't the overlook so I continued on. I came across this and started contemplating life.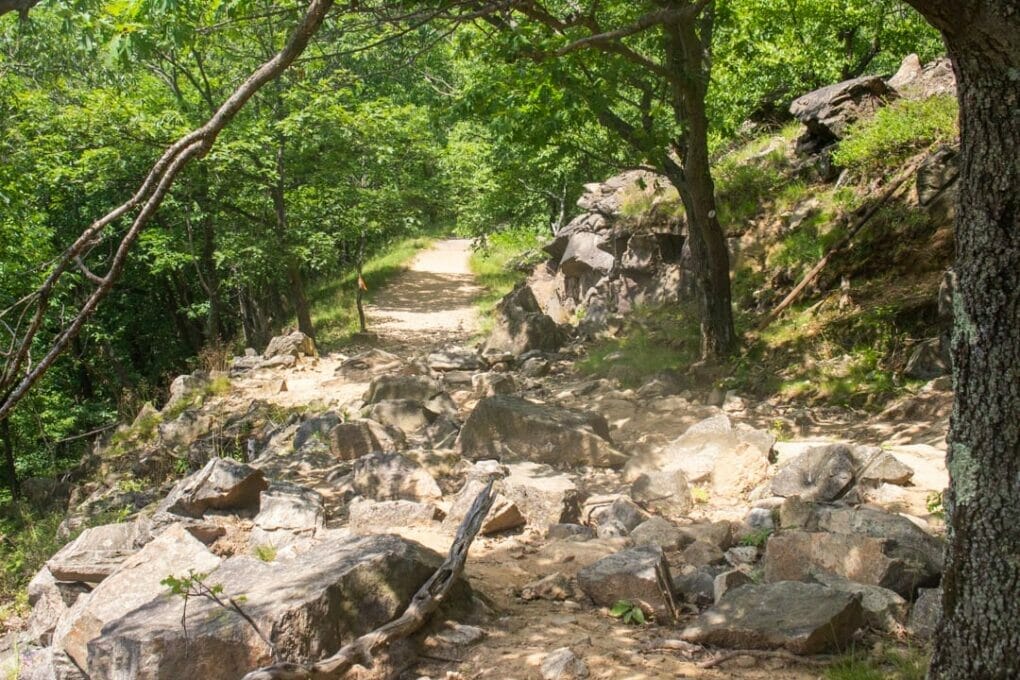 That's the trail. I expected uphill trekking but nothing rocky. They're making me work for that nice view. It's a lot like life. Success is rarely easy or painless.
I perched on a rock to rest because that wasn't the worst of it. This was:
I recorded that video on the way down. This narrow trail just to get to the view was a beast. Nothing in the review mentioned this.
But, the overlook was literally on the other side of this path. If I'd give up right there, I would've done so steps away from my destination.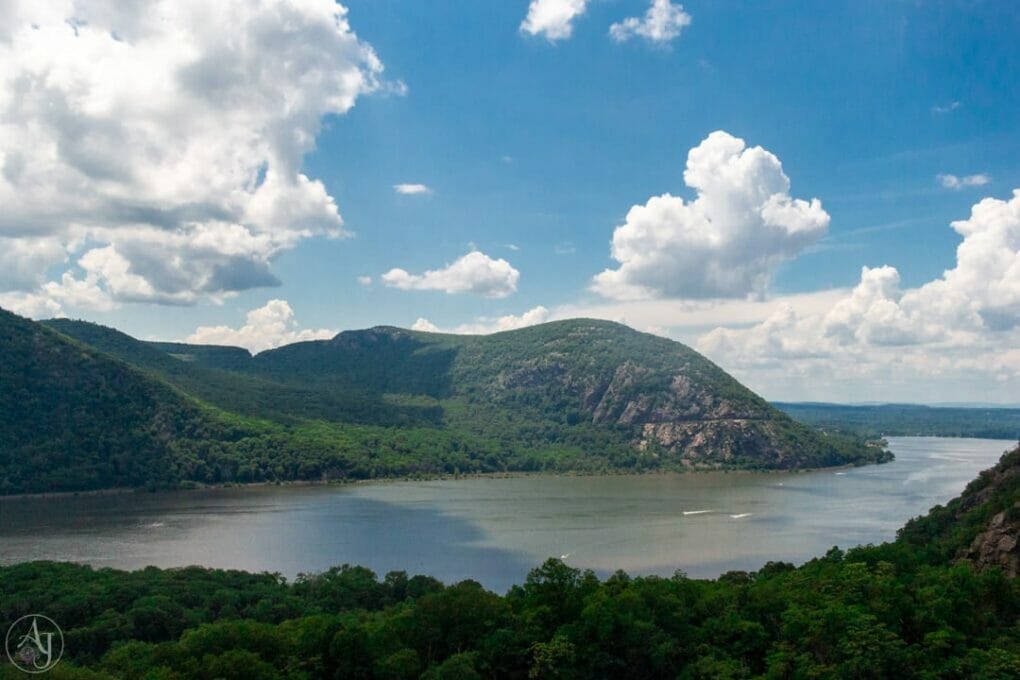 I didn't realize how far I traveled until I saw this.
Remember that photo I showed you farther up, the one that looked like it was taken inside a grassy canyon? Those people on that path are walking where I had taken that shot.
I hiked a bit farther. At different spots, the mountain opened to reveal a beautiful landscape. Eventually, my body started rebelling. At one point, I was just so tired. No matter how long I sat, it never seemed enough. When I'm on the trail, I usually put away my headphones to property hear the calming sound of nature. But, at that point, I started blasting Born for This by The Score through my headphone to motivate me up the mountain. It was hot out. My water was warm. My shoulders stung from carrying my bag. It wasn't that heavy, either.
I had started carrying my tripod about a mile in because I didn't want to go through the effort of taking it out whenever I needed it. That also meant I had an extra thing to carry. It made a good walking stick, though. My camera's light compared to other DSLRs. But, it's still pretty heavy. Hauling it for several miles in the heat was not fun.
On a positive note, a couple of years ago, I started having lower back issues. If I was on my feet for too long, my back would hurt so much that any simple movement caused me pain.  I felt the normal kind of aches associated with walking long distances but my lower back never hurt. Not even the following day when it felt like everything hurt. My ankles weren't sore either.
My shoes get all the credit. My family had suggested that maybe my shoes were the reason for my back issues. Before I started hiking last year, I bought a pair of Merrell Siren Edge Q2 shoes. They aren't waterproof but they do the job just fine.
I turned around shortly after I took that photo.
I got a little surprise on the way down. Freaked me out a little.
I looked around to make sure the snake wasn't still nearby and snapped a couple of photos. It was a good reminder. In the middle of the woods, I should observe my surroundings more carefully, no matter how tired I felt.
I ended the day with a cup of half and half and gelato from Rincon Argentino while relaxing by the harbor.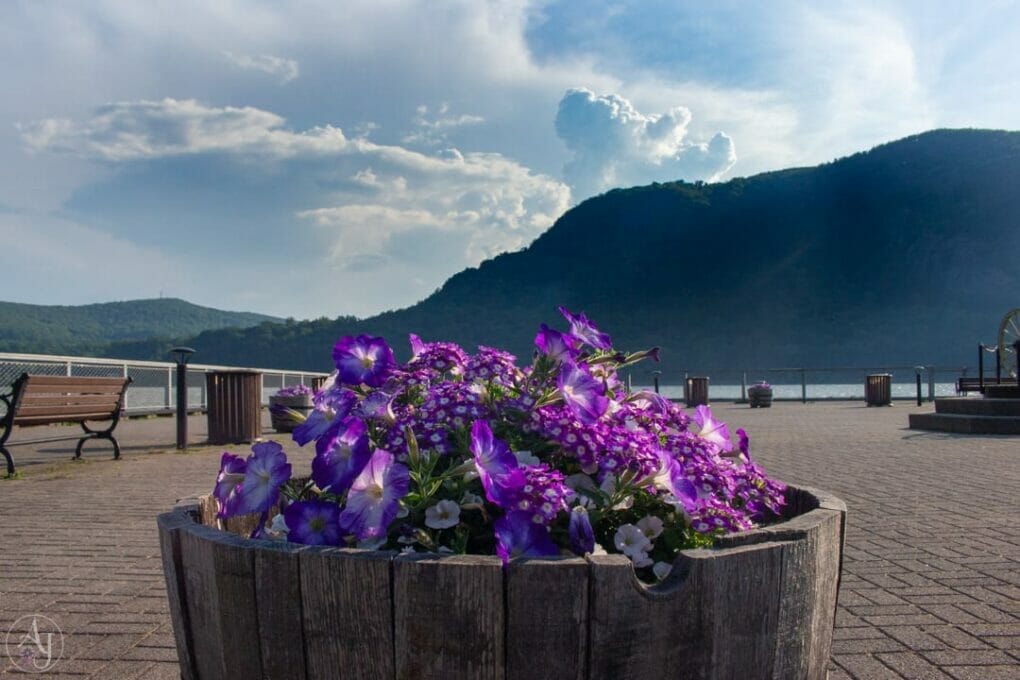 There are people who reach the top by letting someone else do the work. But, if you read a lot of author success stories, you'll see over 30 rejection, of seasons where they were so poor they didn't know how they'd pay rents, years of working a job they despised because they needed the money.  Even some authors with hundreds of thousands of followers and a list of awards work part-time because they can't pay bills on book sales.  If you're in the middle of it and you're wondering when it'll get easier, just keep pushing. The pain is part of the process.
I didn't do the full Bull Hill loop because afterwhile my body was like, I'm not going up one more hill. I often hike alone so, if I get sick on the trail, that's going to be a problem.  I don't see it as giving up, though. I took the hike because I wanted to photograph the view. I did. Eventually, I'll be able to do the full loop.
To see more photos from my other projects, check out my Photography page.