Battling a Storm to Get Some Incredible Nature Photos
Planning hiking trips to photograph the bright fall colors got me thinking of all the things we do to get those incredible nature photos. Hiking several miles up a steep, rocky path. Waiting for hours until sunset. Waking before dawn to capture the sunrise. Often, I'll go out in the middle of a snowstorm or shortly after to photograph the neighborhood, staying out so long my fingers and nose start going numb.
Oreo loves it. The snow's taller than her and she dancing like it's Christmas morning.
Some of my favorite shots came out of storms.
Like this one:
Unlike most NY snowstorms, I didn't set out to purposefully take this photo. I happened to be in Coney Island during the blizzard.
I was running an unpleasant errand but something good came out of it. You never know.
"Sometimes the greatest storms bring out the greatest beauty" –Steve Maraboli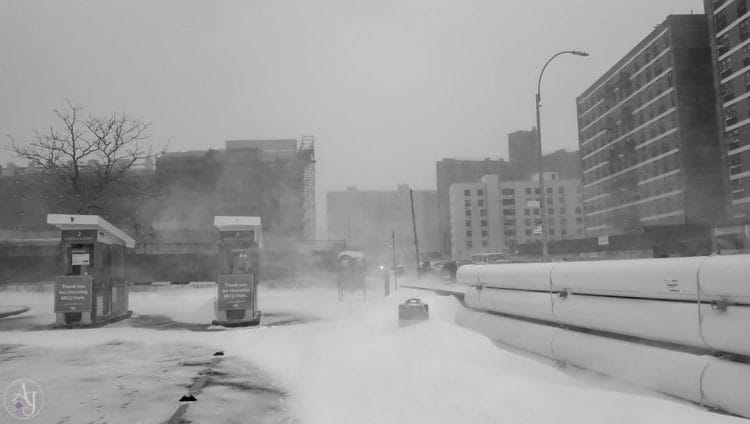 I mentioned this a while ago, but after I got my second master's degree, I had trouble finding a job. I applied for anything, asked around, talked to job coaches and recruiters. Nothing worked. I went on public assistance about a year after graduating. I owed my landlord a lot of money and was about to get evicted.
HRA (public assistance) has a grant called the One-Shot Deal. As long as you prove you can pay your rent going forward, they'll cover your back rent.
I got the One-Shot Deal and eventually, a full-time job.
I thought all that stuff was over. Then, months into my new job, my landlord sent another notice saying I owe about $5,000. I didn't. The One-Shot deal took care of that.
I received this letter on a Thursday, the day before a major snowstorm would hit NY. You don't let things like this sit for a few days. I had to take care of everything before the weekend. On Friday, I needed to visit HRA to get some proof they sent my landlord money for my back rent. I could do this by phone or email. HRA doesn't work like that.
The snowstorm was bad by the time I woke on Friday morning. It got worse when I reached the office. It was still going strong when I left to stop by the HRA office near Coney Island.
The trains were a mess, roads and sidewalks hadn't been shoveled. The snow was falling so heavy I couldn't see much. But still, I pulled out my phone and snapped photos.
I was in the middle of the street taking this photo. Coney Island wasn't any better. I usually get to the HRA center by walking the boardwalk. This time, I didn't care about the ocean or the view, I wanted to get my documents and go home. But, as I mentioned, roads and sidewalks were buried.
However, the boardwalk was not.
These snowy Coney Island photos were happy accidents. I wish I had thought ahead and packed my DSLR but phones do all right.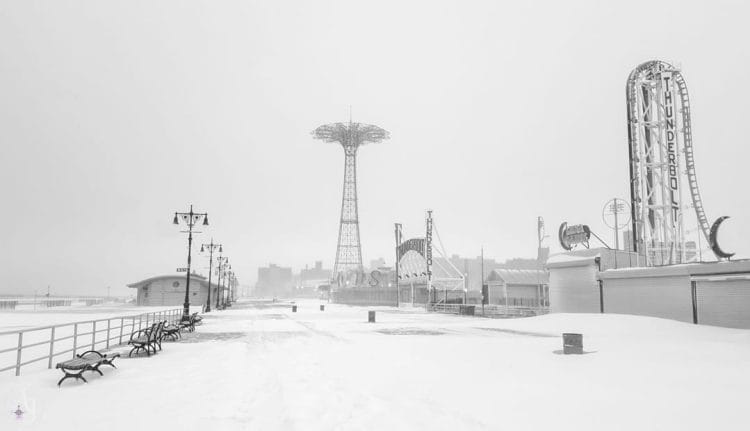 I've been watching a lot of photography YouTube videos. The experts say go out in storms. Sometimes, that's how you get those incredible nature photos. I've usually gone out in snowstorms. I've done fog but never rain. I'm going to, though. Wonder what kind of shots I'll get.
See my Behance profile for more photos.