Spirits still roam the Winchester House forever working on "the house that fear built." Ghostly footsteps, loud sighs and dark figures are a few tales surrounding one of the most haunted places in America.
 The Winchester Mystery House has inspired stories like Rose Red and episodes on the anime Ghost Hunt. Not to mention graphic novels like House of Penance as well as a number of plays. I didn't see the 2018 movie but given its reviews, I may rent it on Amazon.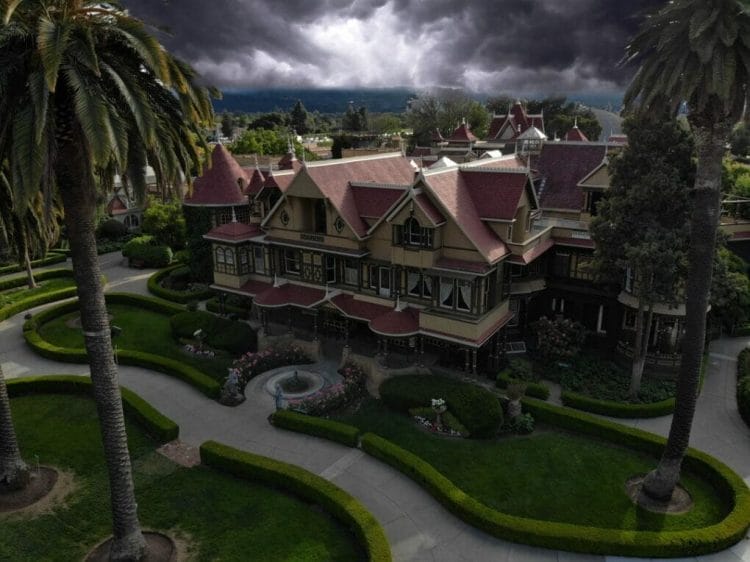 The Curse
In 1862, Sarah Pardee married William Winchester, heir to the Winchester rifle fortune. Stories vary but during her life, Sarah lost her husband, father-in-law and infant daughter some say within months of each other. Another source said her mother also died. Sarah was afraid her family was under a curse put on them by victims of "the gun that won the West."   
The House That Fear Built
After their deaths, Sarah moved into an 8-room farmhouse in San Jose, California. Grief-stricken, she consulted a medium who told her to build a maze of a house to confuse the spirits. The medium said Sarah would die if she ever stopped building. Another version said she needed to keep building to appease the spirits. 
By the time she died, the house had "950 doors, 160 rooms, 52 skylights, 47 fireplaces, 40 staircases, 40 bedrooms, 6 kitchens and 2 ballrooms." 
Ghosts of the Winchester House
The Winchester Mystery House is now a tourist attraction. Visitors and staff have reported a number of paranormal phenomena. One notable spirit is a black-haired man pushing a wheelbarrow. Years ago, a man restoring the building felt a hand tap his shoulder but when he turned, no one was there. 
People have heard music playing from the ballroom. They've seen red balls of light and doorknobs turned by invisible hands. People have also spotted Sarah's ghost still trapped in her own twisted creation. 
Added to the creepiness is the number 13 carved into various places throughout the house including windows, stairs and even chandeliers.
This is only a sample of the paranormal things said to happen at the Winchester House. Sarah was, supposedly, haunted even before she started building stairs to nowhere. I understand now why it's one of the most haunted places in America. 
To read about other haunted places, check out my post on the Hoia-Baciu Forest, a paranormal doorway. 
Sources
— Nickell, Joe. "Winchester Mystery House: fact vs. fancy. (Investigative Files)." Skeptical Inquirer, vol.26, no. 5, Sept.-Oct. 2002, p. 20+. Gale Academic OneFile
–Stollznow, Karen. "Bad language: a maze of myths: The Winchester Mystery House." Skeptic [Altadena, CA], vol. 18, no. 4, 2013, p. 6+. Gale Academic OneFile
–SILVA, L. A.; SILVA, S. Winchesters Won the West and Also Made the Winchester Mystery House Possible. Wild West, [s. l.], v. 14. 20, 2001.
—Three ghost stories of the Winchester Mystery House