The weather's getting nice. It may be time to pack that hiking bag and take a day trip. Hiking is fun, most of the time. But it's not about just grabbing a bag and going on a walk in the middle of nowhere for several hours. You have to prepare, especially if you're going alone. I solo hike mostly because I don't know anyone who'd want to walk up a mountain for several hours.
What's in my hiking bag?
The Bag
I spent weeks searching for an affordable camera hiking bag only to give up. The ones in my budget were only large enough for camera equipment and nothing else. No room for food, water or emergency supplies. If I went large, the price jumped to well over $100. I settled for the TOMSHOO 20L/30L Backpack. Then I bought a DSLR case that protects my camera even during a snowstorm. I talked about that in the post Winter Landscape Photography Tips for Capturing Snow.
I also carry cushioned lens pouches that hook onto the front of my bag. I really appreciate the cases when I'm taking a break after several miles. I'm tired and just drop my bag on the hard ground, completely forgetting my lens is attached to it. My tripod is strapped to the bottom where the sleeping bag would be.
I started with a 40 L bag because I didn't think 20/30 L would be large enough for all my camera equipment. My stuff fits in the smaller one but it can be a pain to get them in and out of my bag. I don't use the 40 L bag as much but I loved it. The bag looks big but it wasn't that heavy.
For Emergencies
If you're a person who likes jewelry, you may have a collection of drawstring cloth bags of various sizes. I grabbed a larger one and stuffed it with bandages, gauze, alcohol swabs, painkillers, an emergency blanket and other first aid supplies. That just stays in my bag. I'll take it out every now and then to check it and swap out certain things. An emergency blanket is important. You may plan to be out of the woods by dark but if something unexpected happens, an emergency blanket makes a good shelter. On that note, I also carry a jacket in my bag, even in the summer. As well as a headlamp. I bought one from my local pharmacy. It's not a dedicated hiking lamp but it does the job.
Food and Water
It's cheaper to make your own trail mix. I'll buy a large bag of grain (or birdseed as I call it), like Bear Naked Granola. It's pretty good. It just reminds me of bird seeds. While searching for hiking food, I came across candied walnut recipes. They are now my new favorite hiking snack. One weekend, I'll make a large batch of candied walnuts. For my hiking trips, I'll throw a handful of them in a baggie with some granola and candy. I'll sprinkle in some caramel apple chips I get from my local grocery store. I love these things.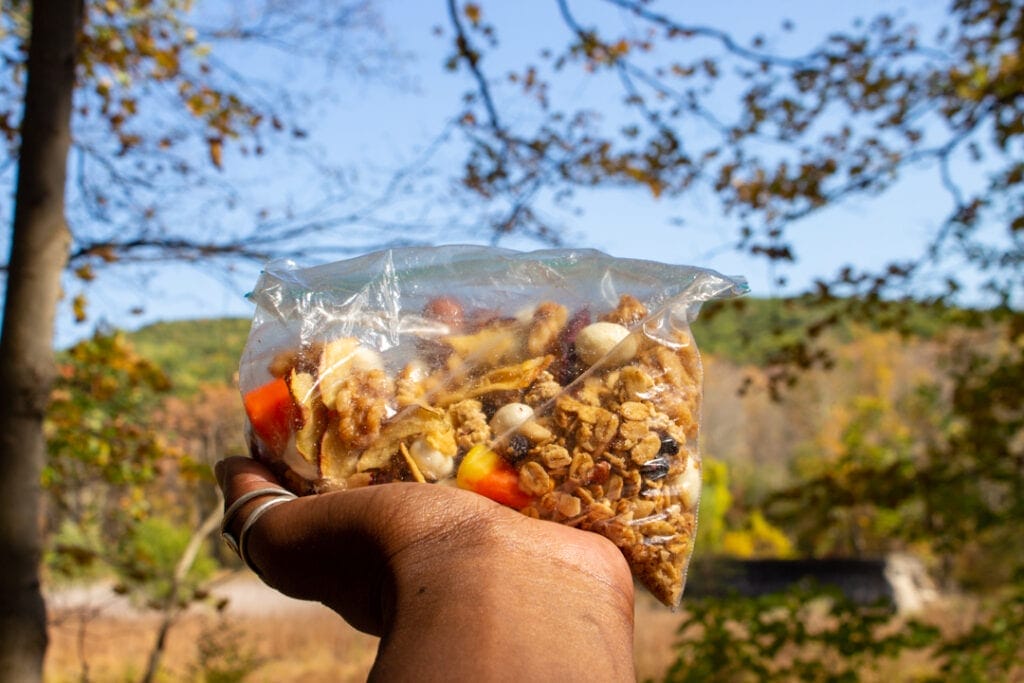 For water, I carry a 750ml bottle. In the summer, I'll bring two. When it's hot out, I go through water far faster than expected. I really don't want to buy water while I'm out. They cost way too much. Eventually, I'll be adding a bladder to my hiking bag. Sounds weird. But anyway, carrying that will probably be better than two water bottles.
I'll also pack a separate baggie of dried fruit, usually pineapples and mangos. For some reason, I don't get that hungry on the trail. I used to pack sandwiches but stopped when I realized I wasn't eating them.
Extra Essentials
I recently added Covacure Trekking Poles to the mix. They're pretty new so I've only used them once but, they came in handy. I also want to learn how to navigate using only a map and compass. So, those are always in my bag. I bought a simple compass to practice. I'll probably upgrade when I get the hang of it.
Getting the map was an adventure. I thought I could just buy it on Amazon but I had to go directly to the source to get the latest version. Keep that in mind when you buy your map. Make sure it's the latest version. I also carry a case of ND Filters. I don't use them that often but I've found that I usually need them when I don't pack them. So, they stay in the bag.
Since I'm a writer, I never go anywhere without a journal and a couple of pens. I bring my tablet to read on the two-and-a-half-hour train ride to and from the trail.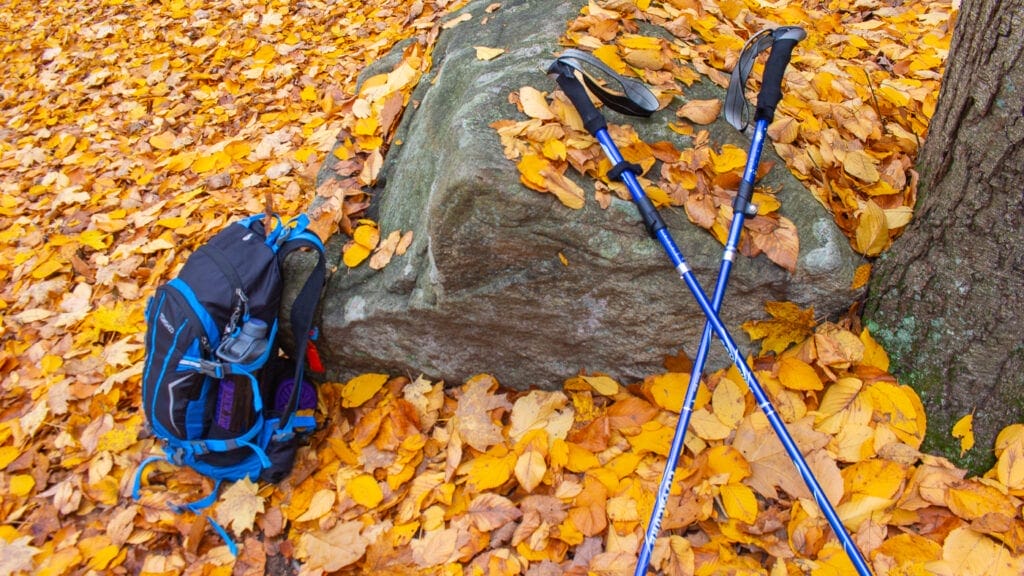 What's in your hiking bag?