I enjoy photos that look like they were taken on an epic fantasy quest. Hiking is kinda like a fantasy adventure only your reward isn't a world-saving talisman but a spectacular view and improved mental health. Infrared photography seems right up my alley. This photo looks otherworldly.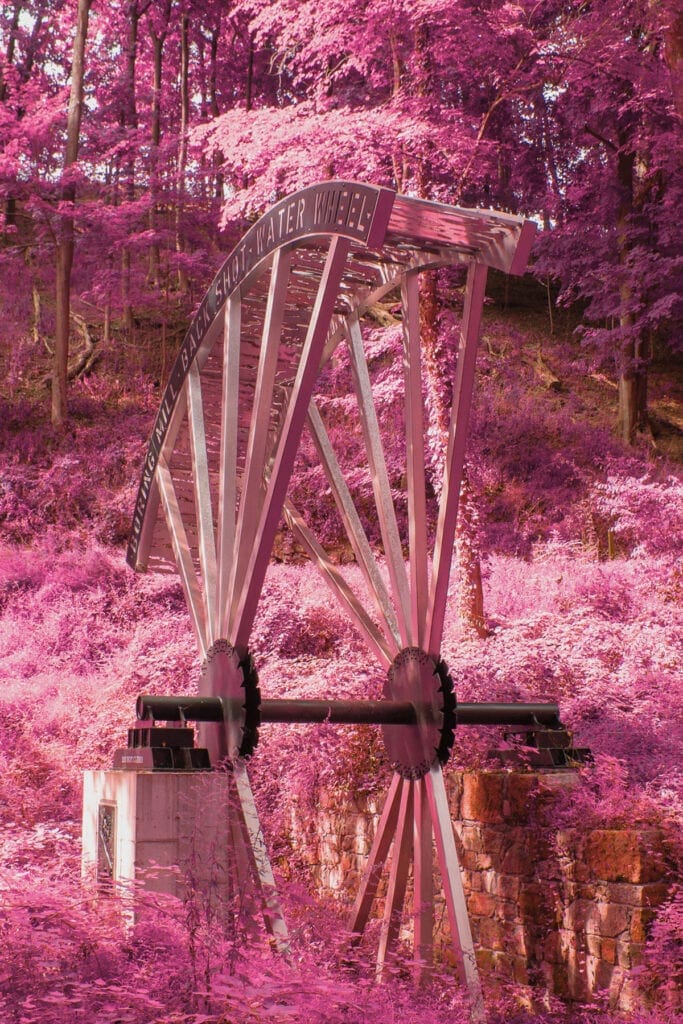 I haven't started taking real infrared photography since I don't have all the equipment yet. Mostly, I've been having fun creating the false-color infrared effect in Photoshop. It's good practice to see what kind of scenes and compositions work best for infrared.
I learned how to do that effect from a post on Digital Photography School. If video works best for you, watch this tutorial.
While I prepare to take otherworldly landscape photography, I've been doing some research. I also search Behance and Pinterest for photo examples.
Here are a few things to keep in mind if you want to get into infrared photography.
Test Your Camera
Before you buy any equipment, you need to make sure your camera can shoot infrared photos. Take a regular TV remote control and point the sensor at your camera. Look at the remote through your camera's LCD screen, not the viewfinder. Push any button on the remote. If you see a white light, you can take infrared photos. If your camera doesn't have a Live View setting, take a photo of your remote with any button pressed and look at the shot.
It's still up in the air if my Canon Rebel T5i can take infrared photos. My remote light come out purple. We'll see.
Buy an Infrared Filter
It seems the cheapest way to do infrared photography is to buy a screw-on lens filter. Most articles I read recommend the Hoya R72 Infrared Filter. It's not cheap though but photography is an expensive hobby. It'll cost about $50. Since I'm not sure my camera can do infrared photos, I ordered cheaper filters from Amazon. I haven't yet tried the Neewer 4 Pieces 58MM Infrared X-Ray IR Filter Set but from the reviews, they seem to be good entry-level filters.
Sit Your Camera on Something Sturdy when Taking Infrared Photos
The infrared filter, apparently, darkens your scene. In order to get a perfectly exposed shot, you need to use a slow shutter speed. You can't hold your camera while taking infrared photos. The shot won't come out sharp. You need a tripod.
Or, you need to set your camera on something solid, like a rock or fence. I didn't own a tripod until recently. If I wanted to do long exposure photography, I'd rest my camera on my knees if I had to. I may to a separate blog post about broke photography.
Summer is the Best Time to Shoot
Spring and Summer, particularly, summer, are the best seasons for capturing landscapes in infrared. This is a good time to start a new photography hobby.
Time for Midday Photos to Shine
Months ago, I was working to level up my photography skills. All the videos said to avoid shooting during midday. The harsh sunlight overexposes your photos while making the shadow too dark. However, I could only hike during midday because I didn't want to be on the trail when it's dark.
I was stuck. How could I take nice photos if I could only shoot during midday? Turns out, infrared landscape photography works best when shot under that harsh midday summer sun.
It's funny. Because of my WIP Book 4 of The Merging Worlds series, I've become a bit obsessed with unusually colored, glowing plants and animals. These photos may give me some landscape inspiration.
This year has already been a mental health struggle. Just getting out of bed is a fight. It's nice to have a project to dig into. If you've been struggling, think of something you can throw yourself into. I've been gaming a lot, like a lot. I also got back knitting and I started making hemp bracelets. Infrared photography will provide another welcome boost. I'm still doing research. When I learn something new, I'll share it with you. It's been fun creating the infrared effect in Photoshop and experimenting with different colors. Check out my Behance page for more photos.
If you have any infrared photography tips to add, comment below. I'd appreciate the help.
More Resources
How to do Surreal Digital Infrared Photography Without Expensive Gear or Camera Conversions
Introduction to Infrared Photography
Infrared photography using a filter: tips and techniques