Creating "To Other Worlds'" Print Cover, With Design Tips for Indie Authors
I generally don't have a preference for book format. Ebook, print, audio, I don't particularly care. I just like books. But, there is a special kind of feeling when I've finished the print cover for my book. Maybe it's because seeing the full front and back cover makes it seem real. But, designing a print cover is something special, in a good and slightly annoying way.
Here's To Other Worlds' cover for posting online: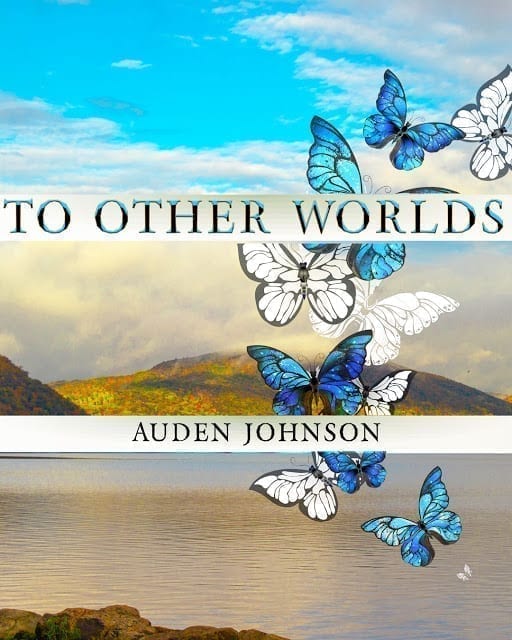 Since I don't want the headache of trying to make a photo book look pretty as an ebook, To Other Worlds will be only available as a hardback. Maybe, eventually, I'll look into turning it into an ebook. I think Apple Books is good for publishing image-heavy titles.
With that in mind, I probably should've made the print cover first. The way I created that above cover made it difficult to turn it into a full print cover.
For those who don't know, when publishing a print book, the publisher, whoever that is (Amazon KDP, ImgramSpark…), will give you a template.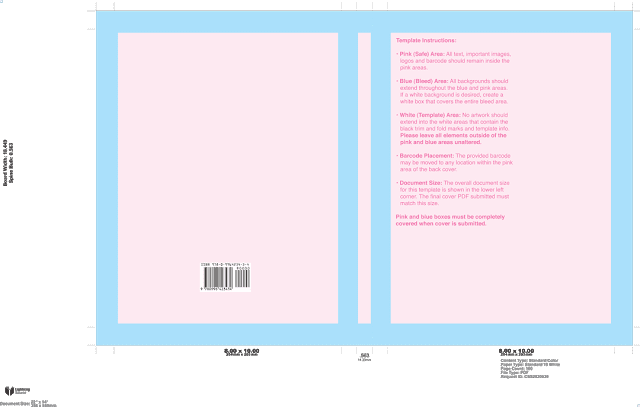 You'll fill out a form with your book's trim size, type of paper, whether or not it has color interior and page numbers. Then, the publisher will generate a temple, usually pdf, that you design on.
For print books, the size, in general, is 8×5, 8.5×5.5 or 6×9. You can do large or smaller but those three are the most common. Your interior is black and white on cream paper. You don't publish a novel on white paper because studies show reading on white paper makes people's eyes tired. Some publishers will limit the number of pages you can have in a book.
The Lost Sciell, at 678 pages, is the largest print book I've published so far. It was actually longer. But, when I entered the data into Amazon KDP's cover generate, they said my book was too long for 8.5×5.5 trim size. So, I went through the book and deleted certain sections. I also change the trim size to 6×9. Just keep that in mind if your book turns out to be longer than expected.
It's usually best to have an actual print book by your side as a reference. Bluebird by Bob Staake was the closet thing I had on my shelf to my book so, I kept that nearby for help.
Here's one thing I noticed when examining print books over the years. Look at your shelf and all your book's spine. The title and author name all face the same way. They face toward the back cover, not the front. I believe it's so if your book is ever laid down on a flat surface, cover-up, the spine info won't be upside down.
Indie authors, before you publish a book whether it's print, ebook or audio, please study other books in that format. I used to open ebooks with such terrible formatting I couldn't finish it. Clearly, the author either never studied ebook formatting or they didn't care. Fortunately, I don't come across awful formatting as often as I used to.
Usually, with print covers, you want the front, back and spine to look like one large image when laid flat. The easiest way would be to stretch the front cover's background so encompass the spine and back cover.
With the way I created my front cover, I could 't make the print cover look like one seamless image without changing the entire design. I didn't want to do that so I spent a couple of days playing around with the image until I could fake it.
This is not one seamless image but it looks like it.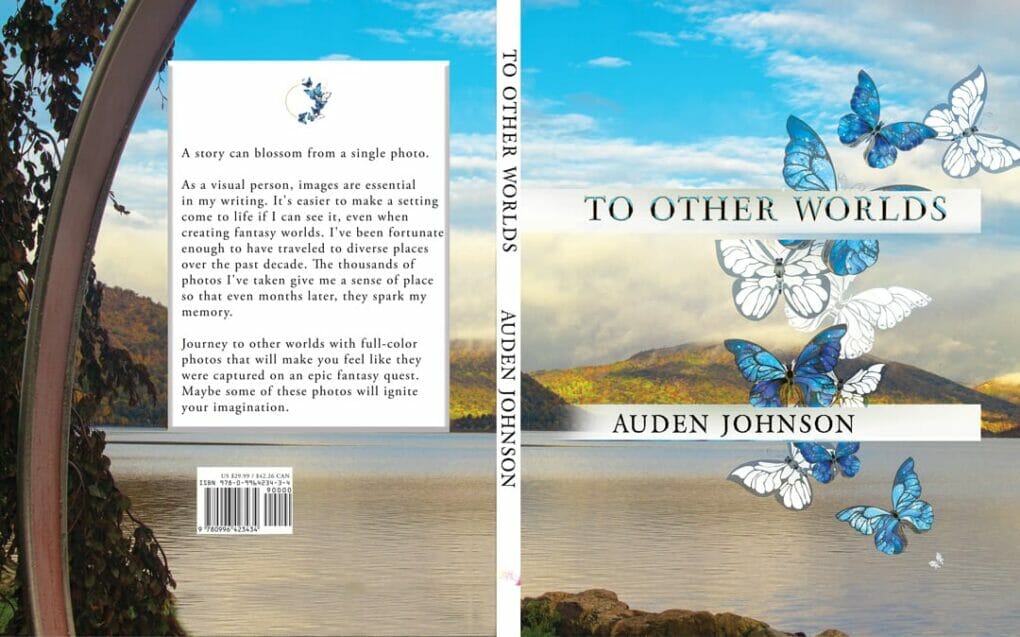 For the book's description on the back, I wanted to do something different. Usually, I put the summary on a simple white background so people can read it. But, that's kind of boring. I experimented with formatting in Photoshop to see if I could somehow bury the square into the image, matching the title design. I really like how this came out.
Here's the full summary. I didn't include the entire thing on the book because all that text would mess up the design.
A story can blossom from a single photo.
As a visual person, images are essential in my writing. It's easier to make a setting come to life if I can see it, even when creating fantasy worlds. I've been fortunate enough to have traveled to diverse places over the past decade. The thousands of photos I've taken give me a sense of place so that even months later, they spark my memory.
Recently, I started a blog series called Story and Photos. I take a series of photos with a related theme like a foggy day and write a story inspired by those images. I don't plot it out beforehand. I collect the photos and just start writing. After a while, the story grows legs and starts running ahead of me. A few want to be novels. Photos have that power. Images can give nearly any muse a nice kick to get it going. You know how some people create stories about people they see on the street? I weave fanatical and sometimes scary stories about places and things I photograph.
Journey to other worlds with full-color photos that will make you feel like they were captured on an epic fantasy quest. Maybe some of these photos will ignite your imagination.