I don't know when I started enjoying scary stories. It's something that's always been there, like writing. I wish I remembered what started my dark obsession. I wasn't allowed to watch scary things as a kid. My parents made my brother and I close our eyes whenever Michael Jackson's Thriller music video played. 
I've been able to combine my love for fantasy and horror with photography. In this post, I talked about fantasy. Now, it's time for horror. 
So what is horror photography? Google says it's images edited to look scary. Life fantasy photography, the models are often Photoshoped onto horror background. Or, they're dressed in a creepy way at a location that looks haunted. The end results are something special and I may have to try making my own. Not with models but with stock images. I collected some examples on my Pinterest board. 
I did make this awhile ago.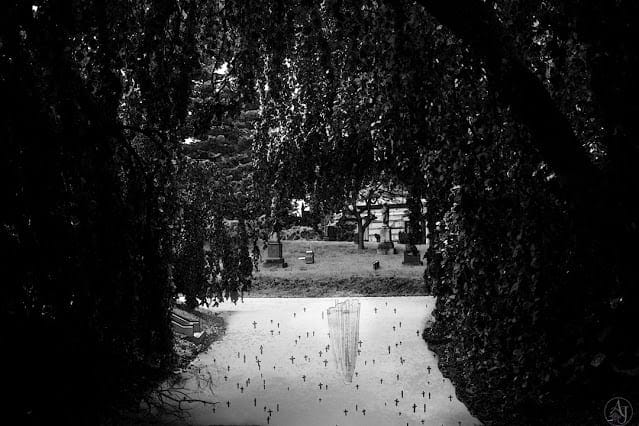 But, these are harder to create than my fantasy images. 
What makes a photo scary? Does the scene gave you bad vibes? 
Or, screams horror movie?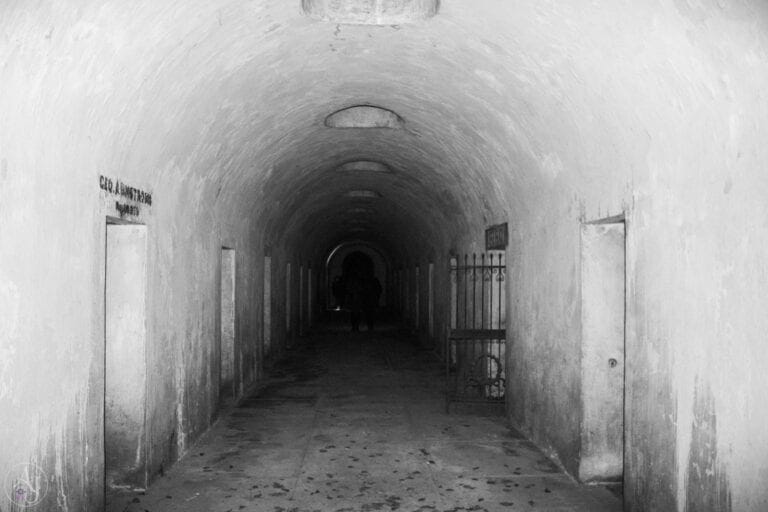 Between you and me, I was on a group tour of Green-Wood Cemetery when I took this photo. It wasn't that scary. If I was here on my own, I still would've taken a million pictures. And when done, I would've run like the devil was chasing me. 
That's the thing. If you nope a scene, you can call it horror. I'm that insane person that'll see something freaky and try to get close to photograph it. 
I just realized I'd be that person in everyone hates in horror movies. The one who pushes everyone to explore the creepy asylum for no other reason that it would be interesting. No, I'd go by myself, which is why I have to be careful. 
I came across this while alone on the trail on a foggy day. 
I started having flashbacks to every horror story I ever read. A psycho could appear from inside this structure and no was around to hear me scream. I did not linger. I took one photo and ran. 
Speaking of asylums, I'd love to explore abandoned buildings but I'm not that stupid. Until I find some photography buddies, I'll have to stick with capturing the exterior.
A cemetery is also pretty unnerving when you explore it on your own, even during the day. But so far, nothing has happened to me.
Just coming across this is chilling enough but then I remember these are skylights for the catacombs. Imagine zombies pushing their hands through the ceiling as you walk across the grass. 
I'm trying to find the source but I believe these were installed initially because people used to be afraid of being buried alive. If someone found themselves locked in a catacomb, they could climb out through the skylight. 
Imagine strolling through a cemetery at night and someone pops out of one of these. You know these old cemeteries were used like parks? People hung out and had picnics in Green-Wood Cemetery.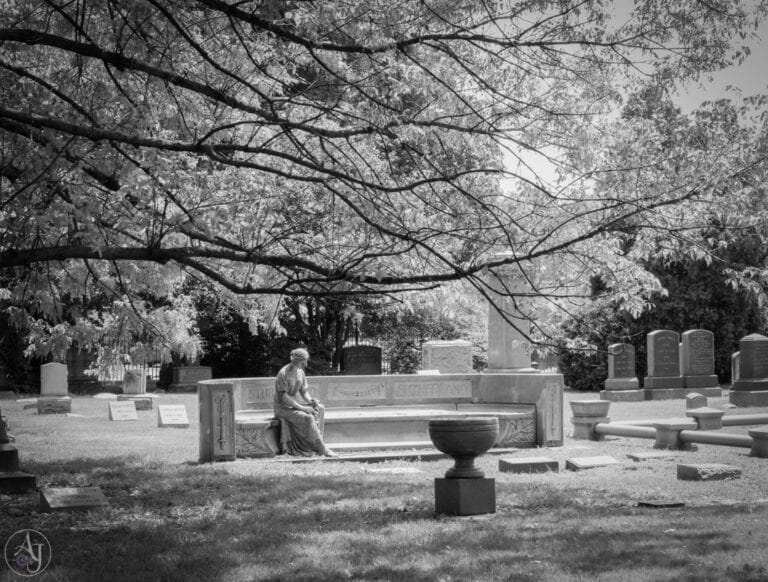 As you have noticed, most horror photography is sepia toned or black and white. Some will have a monochrome background with the subject being the only thing in color. Black and white strips away all the noise, leaving you alone with the haunting subject. 
It's difficult to describe how excited I get when I come across a creepy scene. It's like stepping into a horror story. But, we like horror stories because it let  us experience the unknown from a safe environment. Most people, including me, don't want to live one.
It's inspiring. I get excited because these scenes are inspiring. My imagination goes wild with all the things hidden in the darkness.