Fall Photo Ideas: Capturing the Beautiful Autumn Colors
Apparently, fall is hiking season. The trail was packed on Saturday. The weather's not too hot or too cold and tress are all colorful. Certain areas gave you an otherworldly feel. It's magical. This is photography season as well. YouTubers I'm following have started releasing videos with fall photo ideas and tips. 
https://youtu.be/7FiltAomhro
I've also been following hashtags on Instagram like #tree_magic for inspiration and fall photo ideas. Scrolling through landscape photos on Behance helps as well. 
Fancy Gear Helps But It's Not Required
I have a Canon EOS T5i camera. It sits at the low end of the DSLRs. I l also have a $200 telephoto lens. Also sits at the low end. My phone's at least 5 years old. I don't use it to photograph mostly because it's right on the edge of death. I'm surprised it's lasted this long. Feels like it takes me 2 hours just to photograph with my phone. Eventually, I hope to upgrade my equipment but I don't have the money for it. 
Make Sure They're Sharp
I've been struggling with this lately. When editing, I'll zoom into my photos and they just fall apart. Those nice sharp images are the best. I've gotten into the habit of zooming into the photos as I take them, before I continue hiking, to make sure they're sharp. I don't want any surprises when I get home. Even then, I still miss something but it's less likely now. 
Look Up
I was surprised just how many hikers were taking photos at eye level. The pretty colors are often all at the top of trees. When you're on the trail, look up.   
Go Where No Photographer Has Gone Before
At the beginning of my hike, I spotted a tree with an interesting mix of colors. I could've stayed on the trail and photographed it. Getting under the tree would've be better. But, it was off-trail. A large rock sat right in the spot I needed to stand. So, I climbed on the rock. And got this shot.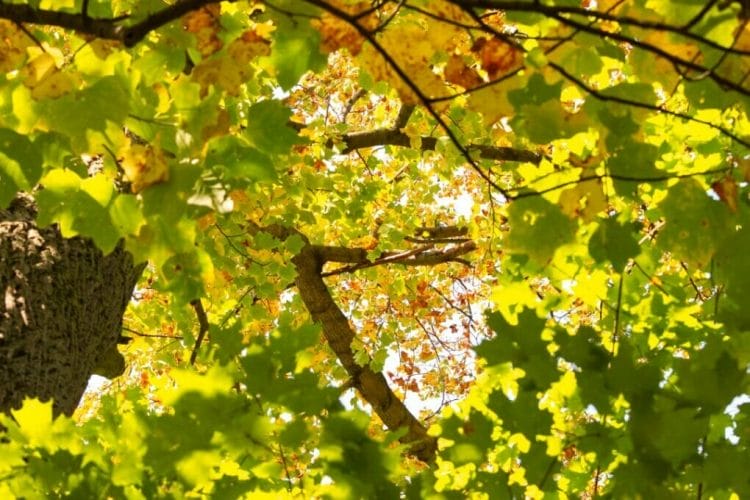 It's one of my favorites. 
Only climb if you feel safe to do so. The rock I stood on was fairly small and it took a bit of maneuvering to comfortably balance on it. I hike alone but I've climbed enough boulders to know my limits, at least for now.  I wouldn't have done this at the end of the hike when I'm hot and tired. 
Go Off-Trail
If you feel comfortable, step off the path to get under a tree.  I wanted to capture these mix of colors but I couldn't do that on the main trail.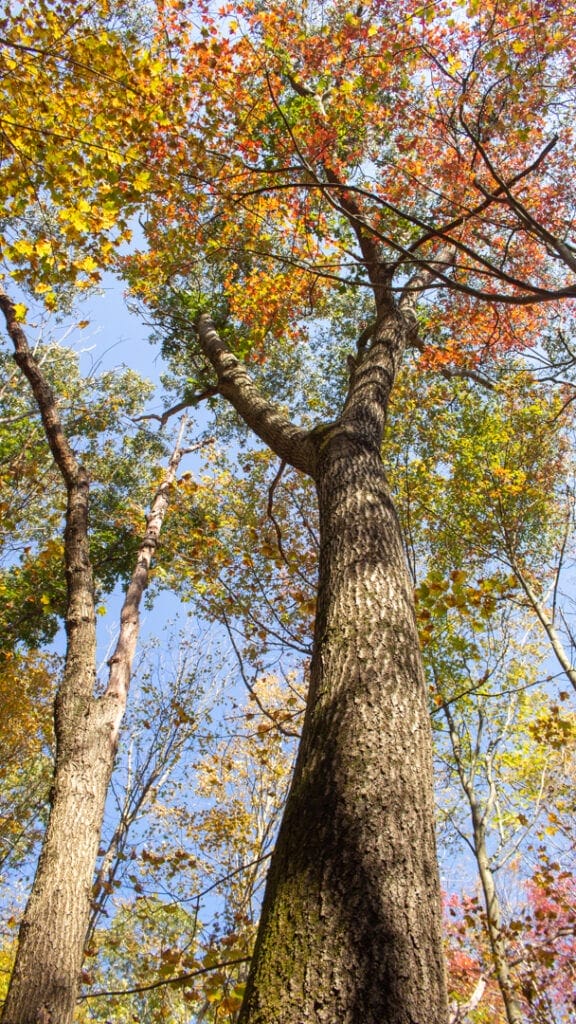 When I first started hiking, I wasn't too comfortable walking off-trail. Even now, I don't go too far. But sometimes, that's how you get a magical shot. 
Be Observant
Certain parks will have trails that don't look like trails. I've hiked to a Breakneck Ridge Overlook in Hudson Highlands State Park several times. But, I noticed something interesting on Saturday. An easily-missed dirt path that took me here.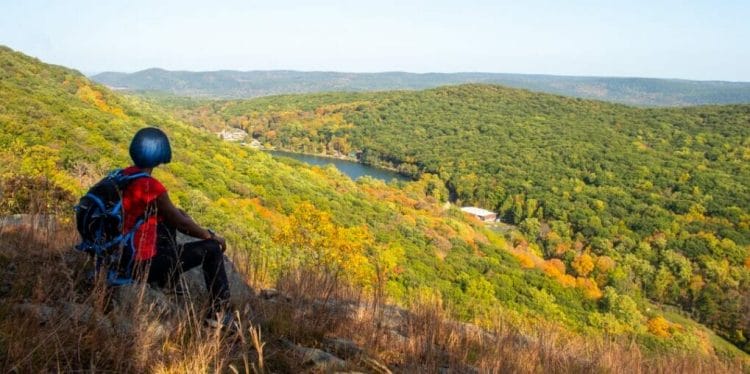 I had the spot to myself because the path was so well hidden. I'm rarely so blown away by a view that'll I'll stand there and stare. I don't normally curse but a few slipped out of me when this scene opened. 
Look for Contrasts
I've seen photos of beautifully isolated trees. I couldn't wait for fall because this season's the perfect time to get those shots. 
I was taking a snack break but this tree kept calling my name. 
Just Try it Anyway
If you spot an interesting scene but don't know if it'll make a good shot, try it anyway. You may stumble across a happy accident. Experiment. 
I spotted some leaves sitting in a small stream and thought the colors looked pretty. I sat by the water to get a good shot when I noticed something even more interesting. A reflection. 
Remember what I said about checking your shots? Clearly, I missed one. I love this composition but I don't need to zoom in to tell it's not in focus.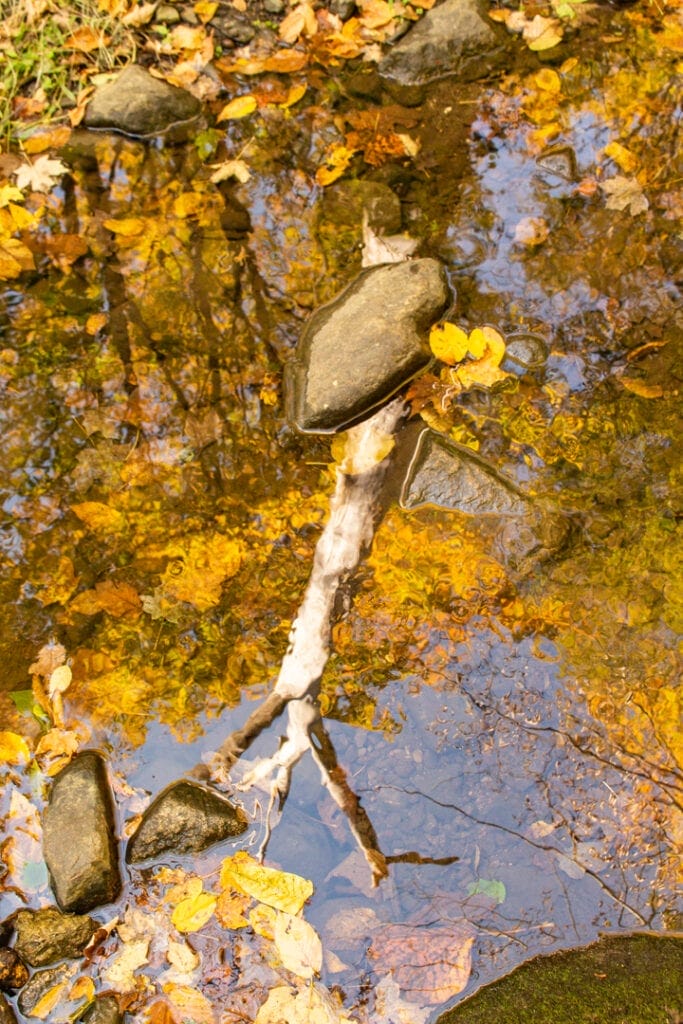 When you're on the trail, you already need to pay attention to your surroundings. May as well look for things to photograph. You'll find scenes most people didn't notice. 
Follow me on Instagram. Check out my photography page for more of my photos.